UPH Enlists Prof. Wiryanto Dewobroto to Become Civil Engineering Professor
.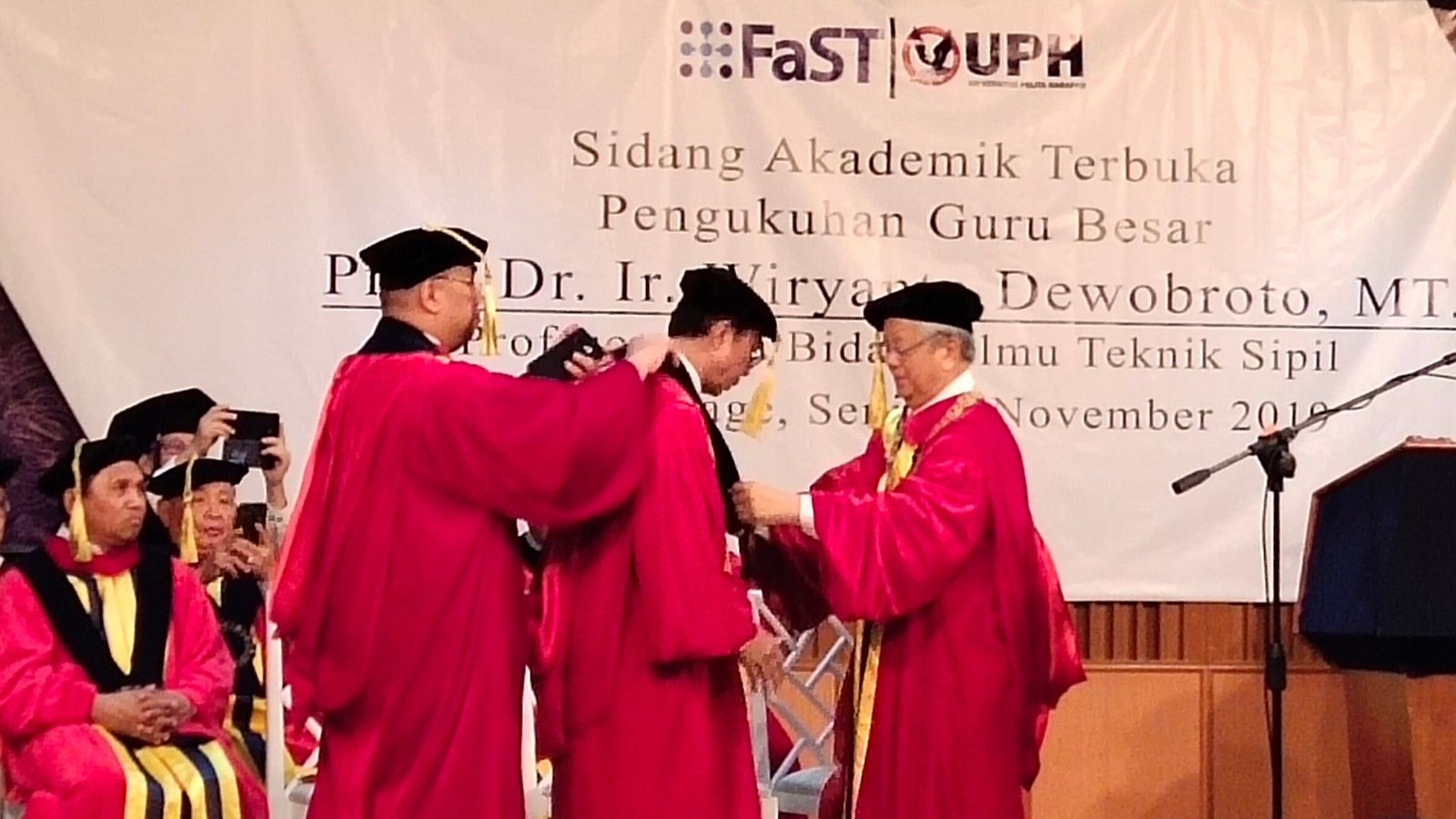 On 4 November 2019, Prof. Dr. Ir. Wiryanto Dewobroto, MT. was officially enlisted as a Professor of Civil Engineering at Universitas Pelita Harapan (UPH), specifically at UPH Lippo Karawaci Campus, Gedung D, fifth floor. This is the third enlistment into the Faculty of Science and Technology (FaST), following Prof. Dr-Ing Harianto Hardjasaputra and Prof. Dr. Manlian Ronald A. Simanjuntak, ST., MT., D.Min.
Prof. Wiryanto said this in a scientific oration entitled Effect of Zero Force Elements on Steel Structures, "Steel is a high-quality industrial product. Steel is important as a sign of the development of civilization. Presently, steel production is less popular compared to concrete construction. However, with the emerging of massive infrastructures, we need strong and economic infrastructures. For these purposes, using steel is a serious consideration that we must take."
The structure of steel is relatively thinner than concrete, which causes problems with buckling. Prof. Wiryanto explains how to handle it by adding the lateral element to a structure called bracing.
According to him, bracing is a specialty of steel construction and is placed above the foundation, copying a previous successful system or instruction from code. If bracing was only installed based on a linear elastic structure analysis, then the results could be deceptive, as said by the professor, who completed his bachelor's at UGM, master's at UI, and Ph.D. at Unpar, Bandung.
He added that bracing is barely detected because it is relatively small, therefore labeling the bars as a zero force element. In addition, Prof. Wiryanto explains the importance of understanding these zero force elements and in placing it optimally so that buckling will not happen. This is the main advantage of steel structures.
Talking more about stability tests, Prof. Wiraynto, who specializes in steel structures, structural analysis, and computer engineering structures, is interested in using a new method called Direct Analysis Method (DAM) that accompanies an older method called Effective Length Method (ELM).
Prof. Wiryanto explained, "DAM is a new steel structure planning method that was found in the American Institute of Steel Construction of 2005, 2010, and 2016. This method is a method that uses computers as a prerequisite, of sorts, in planning. DAM is effective when used for swaying structures and is greatly benefited when adding zero force elements, which are mostly negligible in the old method."
However, although the technology is available to make lives easier, Prof. Wiryanto emphasized the importance of not depending on computers to do the work because the results still depend on the engineer. Engineers are needed to control and evaluate proper structural planning.
Prof. Wiryanto emphasized, "As technologies get better, human resources must be better too."
In his scientific oration, Prof. Wiryanto also explained that the research related to zero force elements, structural performance, and DAM innovations can be used to analyze the ultimate capacity that is proven to effectively track the cause of the suspension bridge collapse at Banjar Sari II, Kabupaten Pacitan, Jawa Timur.
The government has declared the building of 300 suspension bridges in Indonesia in order to develop rural areas since 2015. In 2018, there were 164 suspension bridges built, including the one that collapsed at Pacitan. Therefore, an analysis of the collapse suspension bridge is important to avoid similar events happening in the future.
As a contribution to the nation, Prof. Wiryanto has joined the official investigation and mitigation team on the collapse of the Pacitan bridge. The team was formed by the PUPR Ministry and has academic members coming from ITB, ITS, and UGB since 2018.
To commemorate his contributions, UPH Chancellor Dr. (Hon) Jonathan L. Parapak, M.Eng.Sc., stated that the professor is the embodiment of UPH's vision and mission.
The Chancellor said, "This is the 12th inauguration of professors at UPH. We hope that the knowledge passed on by the professors will be beneficial for the nation and in the infrastructural building in Indonesia."
This news is also reported at antaranews.com.