Beautiful Jocelyn Zamruddin, Gains 'Hakka Amoi Sumut 2020' Title
.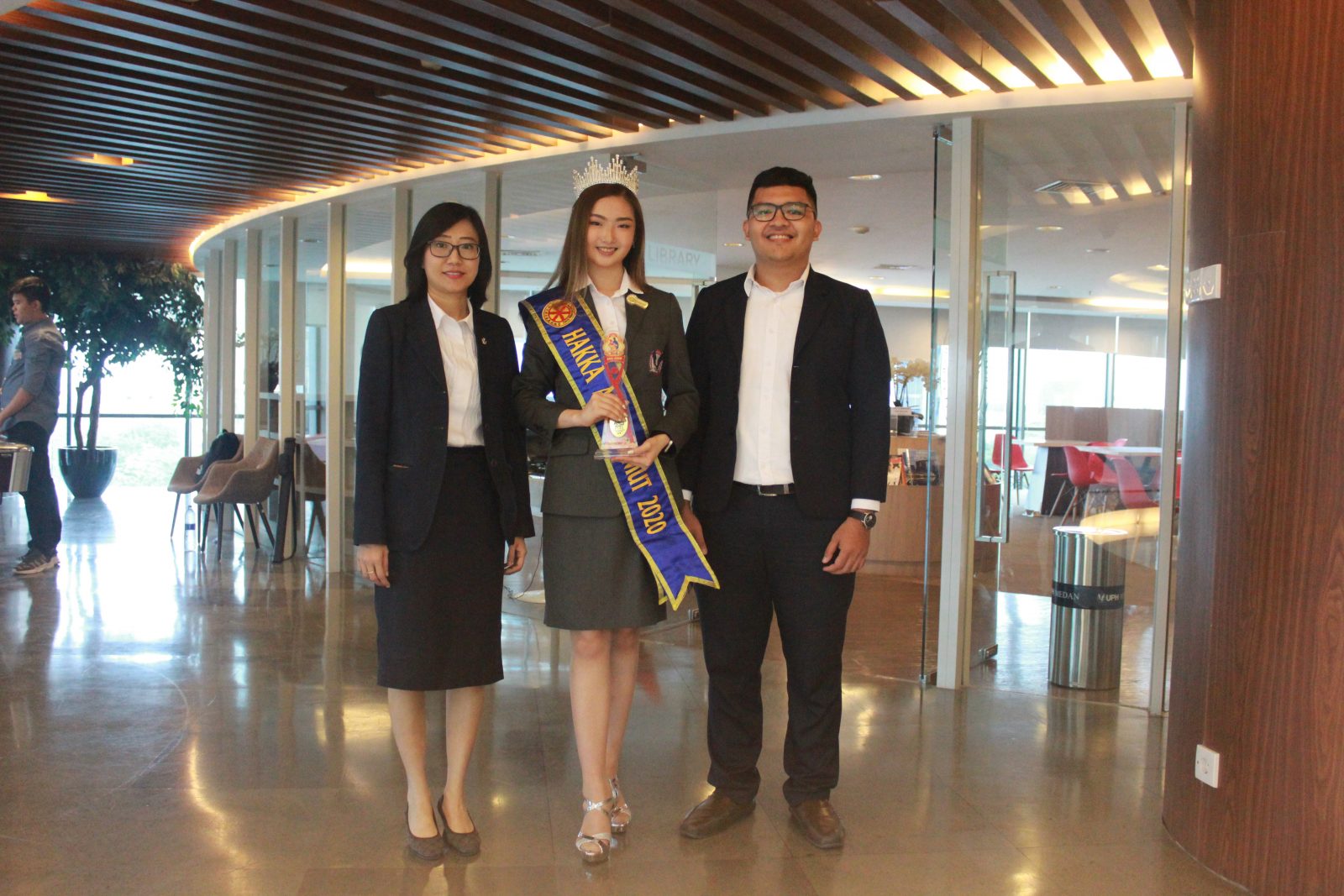 Universitas Pelita Harapan (UPH) aims to give equal emphasis on both academic and non-academic education as a part of UPH's holistic education aim. In regards to the non-academic education mentioned, UPH Medan strives to encourage students to actively participate in cultural-preserving events. Full support is given in order for UPH representatives to give their best as a cultural representative. One of the many supports UPH Medan gives towards students is to Jocelyn Zamruddin.
Beautiful, smart, and friendly – these are the three words to describe Jocelyn Zamruddin. This Pelita Harapan University Medan Campus' Management Major student is crowned Hakka Amoi Sumut 2020 on Hakka Amoi Sumut 2020 contest.
Jocelyn admits that her unique experience during her study at UPH Medan has helped her enlarge her capacity, knowledge, and network. Not only does she feel more prepared through her hard skill and soft skills such as communication, leadership, and a good attitude, but also more so in Godly character. This has become one of her guidance in order to be more confident, is that God will give her the best.
"I sincerely didn't expect to win the competition – the others are all very talented people. But I kept my confidence; I decided to be genuine and think positively throughout the competition so whatever the outcome, it became an unforgettable experience on my side," says Jocelyn.
UPH Medan further gives chances for cultural associations to promote culture by teaming up with UPH Medan, including the collaboration with Hakka Association Indonesia for North Sumatra. This collaboration work includes a live presentation to students about the Hakka Ako Amoi Sumut 2020 competition, which later lets students who are interested in the opportunity to sign up and be mentored directly by the association. Through the Student Life team, UPH Medan expresses our full support towards competing students.
Hakka Ako Amoi Sumatera Utara 2020 is a competition to choose Hakka-descent to conserve and represent Hakka community to the rest of Indonesian society. Hakka Ako Amoi Sumut actively conducts activities to further unite Hakka youth, both in the region and national scale. Activities such as social service, sports events, visitations, community gatherings, as well as special events like Chinese celebrations are commonly held to promote the Hakka descendantry.
The title given to Jocelyn does not come without effort – hard work and effort is poured out to the event. Jocelyn went through all of it due to her motivation is to preserve her Hakka descendant, which is passed down from her Grandfather.
"When I heard of this competition, it strongly reminded me of my grandfather. He was so proud of being Hakka, a persistent group of people. To remember him as well as to know better about
the Hakka culture, I decided to join this competition – an event that is especially held to help youth like me to not forget my own descent," Jocelyn explains.
Jocelyn admits to also gain a lot of interesting experience during her quarantine period. Furthermore, the support between finalists and knowledge sharing adds fuel to her motivation to learn the language and culture.
"Everything about my Hakka descent became more interesting since I take part in Hakka Akoi Amoi Sumut 2020. One interesting story is when the committee requires us contestants to speak Hakka. Sadly, I had trouble understanding due to my lack of fluency in Hakka. But the classes held by the committee and help from fellow competitors helped me to be more knowledgeable and confident in my Hakka. Everyone is very supportive of each other throughout even the audition process and quarantine. This reminds me that as a youth, we have to know our culture because it is our identity," explains Jocelyn.
As the winner of Hakka Amoi Sumut 2020, Jocelyn has a few plans for the future with the hope of giving a positive impact on society. Jocelyn is committing to further conserve and introduce the Hakka tradition in Indonesians a part of her responsibility to Hakka Ako Amoi Sumut as well as being active in National Hakka Ako Amoi competition 2020.
In October 2020, Jocelyn will proceed onto the next step of the competition, Hakka Ako Amoi Nasional 2020. This time, Jocelyn is preparing herself in terms of Hakka-related knowledge and the language itself.
"I kept adding my knowledge in regards to the Hakka culture and language. I'm also aiming to refine my public speaking, talent as well as enjoy every step of the competition because I believe this competition is not merely me competing against other people but a better version of me if when compared to my past," Jocelyn closes.
Jocelyn is not the only finalist from UPH Medan joining the competition, but also Rensy Liawis from Management, who succeeded in achieving "The Best Attribute Photogenic" Amoi Hakka Sumut 2020 title.
UPH Medan truly appreciates Jocelyn and Rensy's enthusiasm for taking part in the competition. When many others no longer care about their culture, these two are proud of theirs', including their capacity to speak their local language as well as the international language, public speaking, social abilities and so much more. UPH sees that such competition is really good for student's development and therefore UPH Medan fully supports the next steps of this event, especially for Jocelyn.
UPH Medan conveys their hope especially for Jocelyn as she embarks to compete at Hakka Ako Amoi Nasional 2020, so that Jocelyn may give her best and reach the best she could in both national and international competitions in the future. Through Student Life, communication and support will keep flowing for Jocelyn.
Congratulations for your achievement and good luck on the upcoming competition, Jocelyn!