UPH Represents Indonesia, Winning Technology Infusion 2020, La Trobe University-Australia
.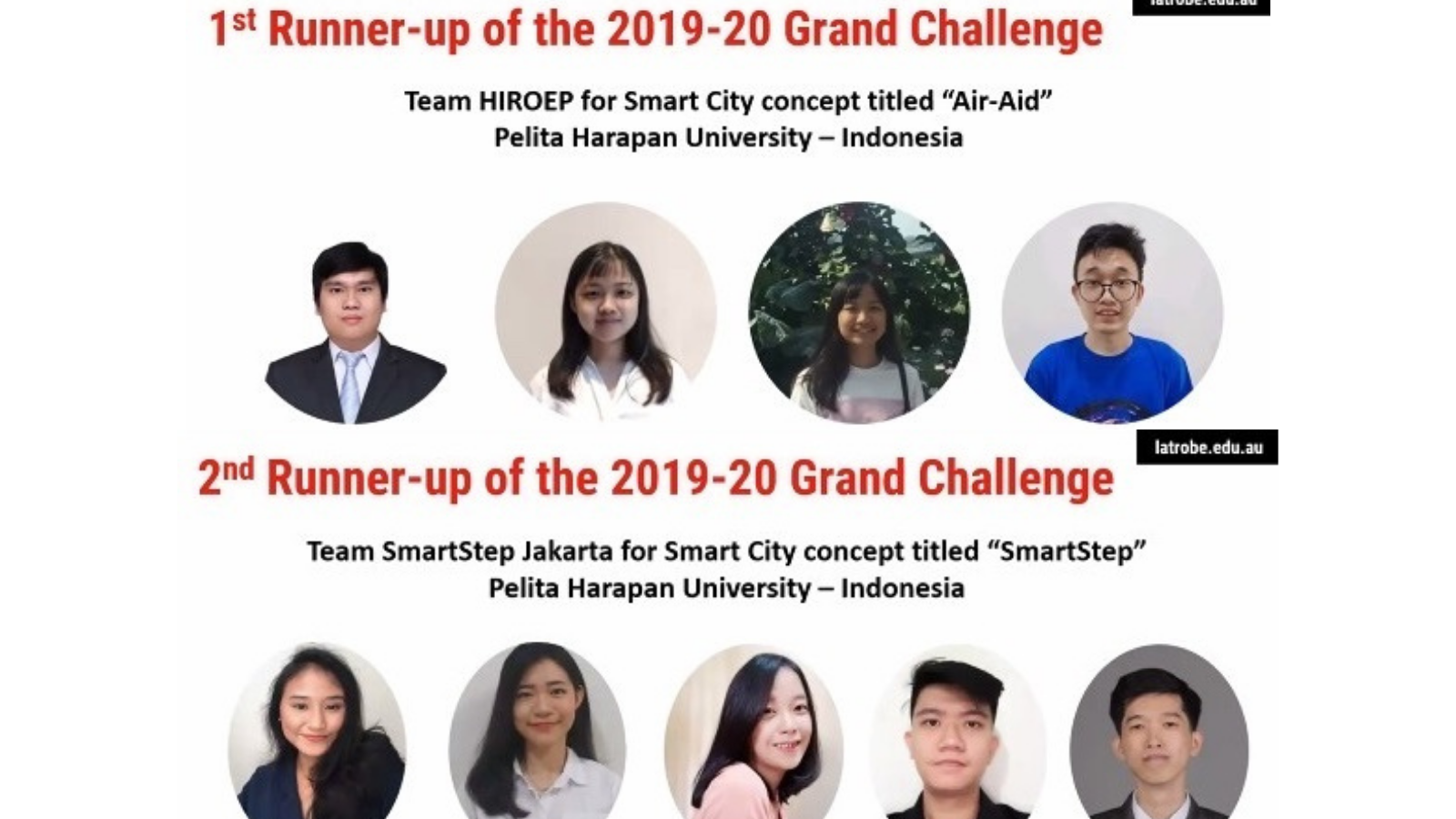 Two teams of UPH Biotechnology and Electrical Engineering students successfully won the Smart City Technology Infusion Grand Challenge 2020 competition, hosted by La Trobe University, Australia, as the first and second runner-up. The UPH teams became the only Indonesian representatives to reach the final round and claimed the championship awards.
For this tournament, UPH sent two teams: "Team Hiroep," comprised of Andrew Dwijanto, Josavan Ezekhiel (UPH Electrical Engineering), Livi Anastasia, and Sania City (UPH Biotechnology), which attained the 1st runner-up title, and "Team SmartStep," comprised of Athiyyarizka Farbila Rachmah, Suawa Natania Abigail Christy, Jesselyn Tanoto (UPH Biotechnology), Winly Williamdi, and Owen (UPH Electrical Engineering), which was the 2nd runner-up.
The first team, Team Hiroep, created AirAid, a smart mask connected to Information of Technology (IoT) that gathers data on air pollution to map pollution levels across the city, alert users if they are in a highly polluted area, and remind them to change their mask filter.
Livi Anastia explains that "as more people use AirAid, more data will be collected. This will aid governments in creating better policies to combat the issue of air pollution. This also helps inform the public of the air quality in their surroundings and urges them to take protective measures."
The second team, Team SmartStep, created smart tiles that is connected it to IoT to monitor and predict the movement of passengers in Jabodetabek commuter trains. This data will provide critical insights to public transportation operators to regulate the number of passengers on board, allowing for both comfort as well as physical distancing. SmartStep also aims to optimize train schedules and the number of trains in operation during peak hours.
According to Owen, "another goal of SmartStep is to urge the public to use public transportation in lieu of their own vehicles to reduce air pollution and improve Jakarta's air quality."
The competition involves a year-long process, which includes a proposal submission at the end of 2019, a pitch video submission, funding from La Trobe University, prototype development, final video documentation, and judging at the end of 2020. The two UPH teams competed against 14 universities from India, China, Indonesia, and Srilanka.
Congratulations to these students for their hard work and ingenuity even in the midst of this pandemic. Likewise, UPH is committed to educating students to become technologically innovative professionals in this digital era. Join us and apply to our "100 Billion Scholarship" program for high school seniors. For more information, please contact UPH Student Consultant at 08111-632-838 or visit one.uph.edu