MRIN-UPH Participates in the Discovery of Antiserum IgY as an alternative therapy for Covid-19
.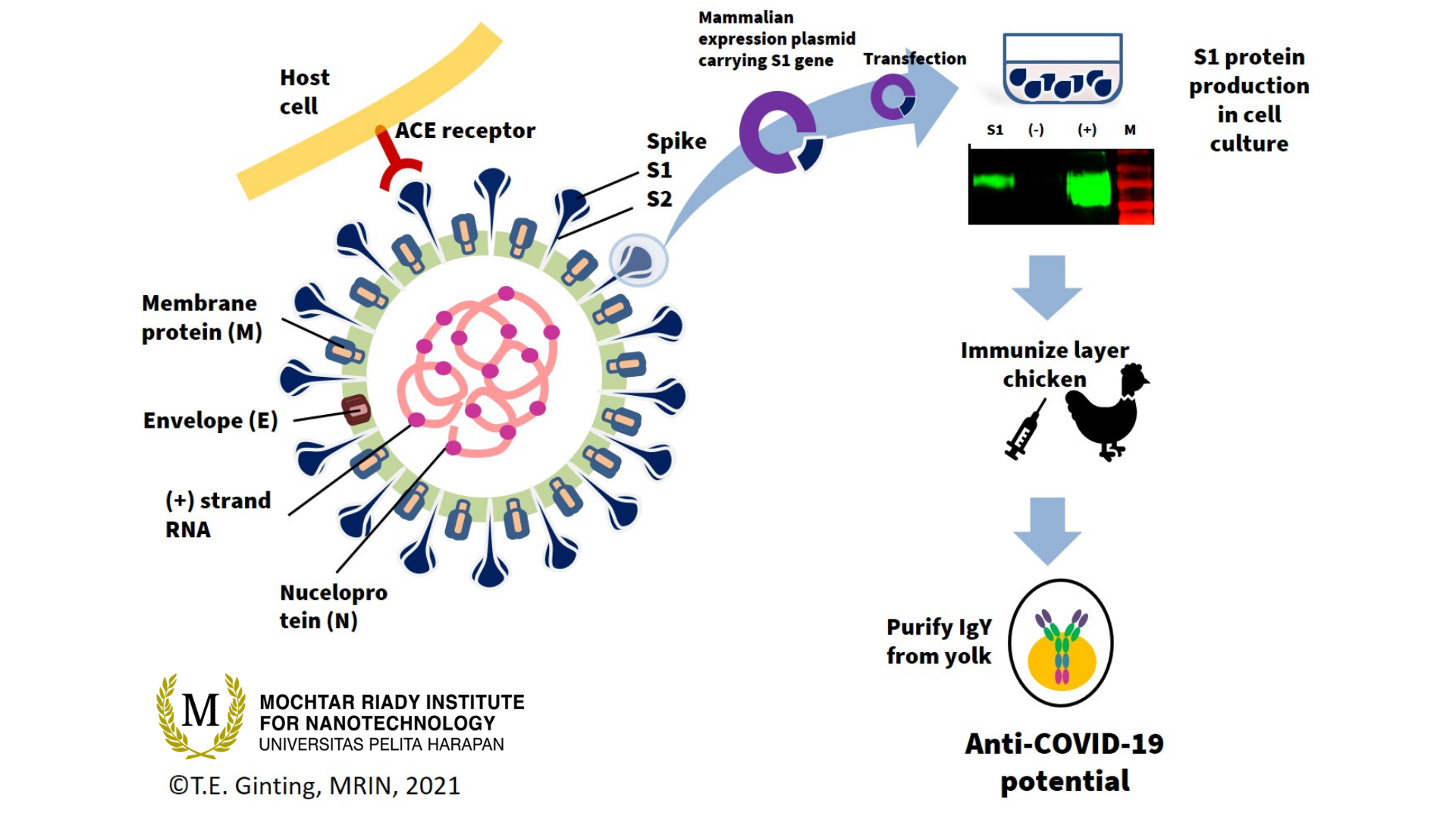 A researcher in the Immunology Division of the Mochtar Riady Institute for Nanotechnology Universitas Pelita Harapan (MRIN-UPH), dr. Teridah E. Ginting, DVM, PhD, joined a national consortium with Kamaludin Zarkasie (a researcher from PT IPB Shigeta), to study the Immunoglobulin Y (IgY) antiserum. This study commenced in June 2020 and with the aim of producing IgY antiserum from chicken as an alternative treatment to Covid-19.
"The process involves injecting immunogen into laying hens and harvesting the yolk of the eggs. We then extract the antibody produced against the immunogen injected from the yolk, based on the findings of this study," explains dr. Teridah.
Antiserum IgY is a promising candidate to create an antiserum treatment for Covid-19, because it is stable at pH 4-9 and up to 65 degrees Celsius in solution, which effectively binds to antigens, is resistant to pepsin at pH 4-6. In addition, IgY has the same function as immunoglobulin G (IgG) produced by mammals.
"These characteristics are what convinced us researchers that IgY can be an effective candidate to treat Covid-19 infections. The antiserum contains antibodies and can be delivered to patients through passive immunization to speed up the recovery process," states dr. Teridah.
According to dr. Teridah, using antiserum as a treatment for infectious diseases has been done for a long time, including during the Spanish flu pandemic in 1918. Therefore, it has proven to be a safe alternative to the treatment of Covid-19.  So far, IgY antibodies can be efficiently extracted from egg yolk and 100 mg IgY per egg can be obtained.
"Our greatest hope with IgY is certainly the ability to have an alternative form of therapy for Covid-19 patients. This means that patients will no longer need to find donors that are currently limited in Indonesia. We also know that Indonesia has been facing new variants of Covid-19. Therefore, we are hoping to produce IgY that is more specific towards newer variants," describes dr. Teridah.
MRIN-UPH actively responds to the global pandemic through Covid-19 research. To date, MRIN-UPH is the only private research institution in Indonesia that has participated in sending genomes to GISAID. A total of 17 nucleic acid sequences were obtained in May 2020 and January 2021.
In order to expand the development of these collaborations and research in the future, MRIN-UPH needs skilled human resources. For those of you who are passionate about scientific research in the fields of biotechnology or medicine, join UPH's Medicine or Biotechnology Study Program. For more information, please contact UPH Student Consultant 0811-1709-901.