Maximizing Potential, UPH Alumni Achieve Success in Asia Young Designer Award Competition
.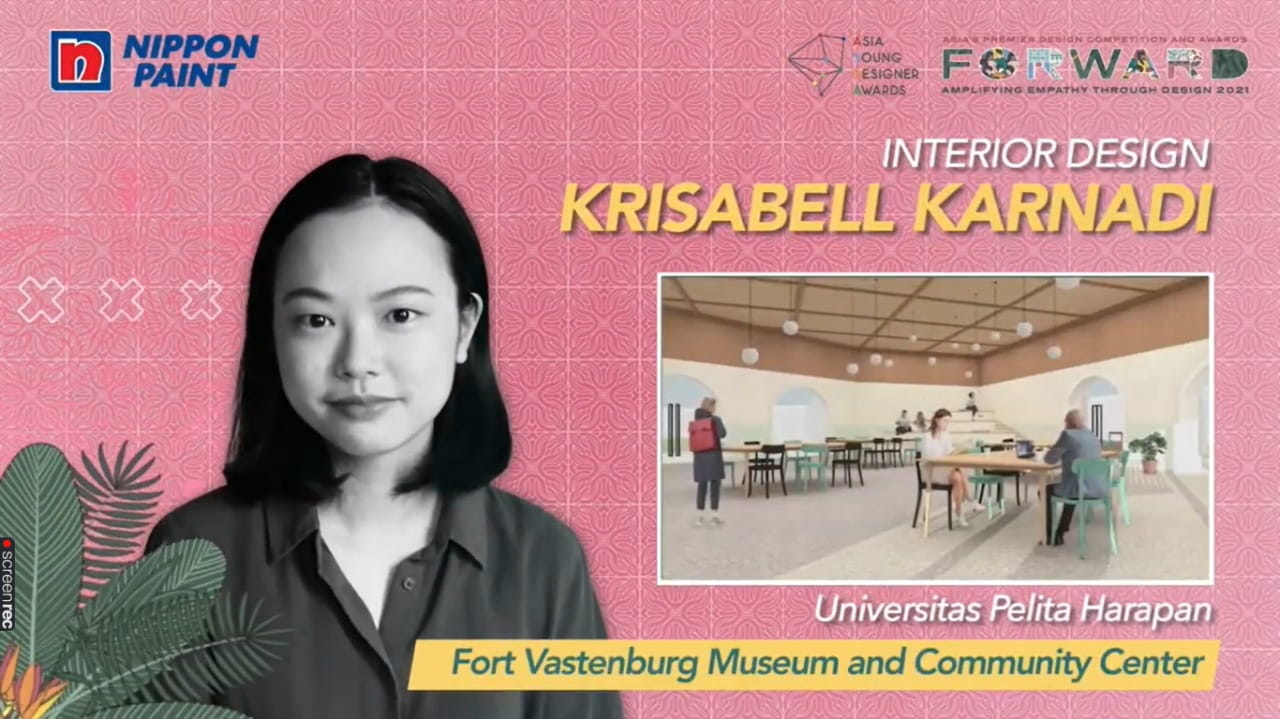 Who would have thought that Krisabell Karnadi, an alumna of Pelita Harapan University (UPH) Interior Design Study Program, would be successful in the Asia Young Designer Award (AYDA) 2021/2022 competition at the end of her lecture period. The prestigious Nippon Paint Indonesia Asian design competition aims to provide a platform for young Asian designers to work in the fields of interior design and architecture. Young designer participants in this competition will also receive industry insights, training sessions and direct mentoring from professional designers in the Asia region.
Since 2008, Nippon Paint Indonesia has been organizing the Asia Young Designer Award competition. The aim of this competition is to encourage creativity and innovation in students and to provide them with guidance for their professional development. With this goal in mind, the Asia Young Designer Award was founded as a learning platform for young designers. The AYDA stage is ideal for architecture and interior design students who want to challenge themselves and dare to set new standards in the industry. So far, 16 Asian countries have participated in AYDA, including Bangladesh, China, the Philippines, Hong Kong, India, Indonesia, Iran, Japan, Malaysia, Pakistan, Singapore, Sri Lanka, Taiwan, Thailand, Turkey, and Vietnam.
In 2022, Krisabell has successfully demonstrated her quality as a UPH graduate by winning this competition in which 303 applicants from 23 Indonesian universities took part. After a very close selection, 5 finalists in the Interior Design category and 6 finalists in the Architecture category were selected. During this phase, she competed with participants from various national universities, such as Bandung Institute of Technology (ITB), Soegijapranata Unika, Bina Nusantara University, Atma Jaya University Yogyakarta, Gadjah Mada University (UGM) and others.
Having progressed through several stages, she should be proud of her status as a Silver winner in the Interior Design category for her work, which delivers solutions in line with this year's AYDA competition theme of 'Amplifying Empathy through Design'.
"This achievement makes me happy because I have the opportunity to participate in the AYDA competition 2021/2022 for the Indonesian region and win a Silver Award.  I am also grateful for the support that I've received from various parties; my family, friends, lecturers, and colleagues," said Krisabell.
Her participation in this competition was inspired by her supervisor during college, where she was encouraged to register her final work in the AYDA competition.
"Since my final project corresponded to the theme of this year's competition, my supervisor suggested that I collect the final project work that I had developed over the last two years with the help and guidance of the lecturers. A few months later, I learned that I had made it to the top ten. I had to submit a video for the next level and got in the top five. I diligently followed every process up to the Grand Final and received the silver winner," she explained.
In keeping with the theme of the competition, Krisabell's design in the AYDA competition is the design for a museum and community center called the Fort Vastenburg Museum and Community Center. The design of this building aims to strengthen identity and change society's negative perception of Vastenburg Fort; a Dutch colonial heritage fort in the city of Surakarta that has long been neglected. Her work aims to renew and revitalize the existence of Vastenburg Fort as a place of historical education, as well as mobilizing community activities within the Fort.
"My design aims to create a fort history museum that can educate the public about the history of the fort, which is actually very interesting. The fort was then converted into a community center where people could take part in activities. Starting with food stalls and moving on to playgrounds, workshop centers, and multi-purpose rooms that can be used as exhibition spaces, all these allow the fort to become a part of the life of the surrounding community once again. The uniqueness of my work, in my opinion, is to create a balance between problem solving, concepts and deep design aesthetics, as well as delivering and adhering to the right theme," said Krisabell, who now works as a junior designer at IOOR Studio Indonesia.
Krisabell's studies at UPH prepared her to develop concepts and consider various factors to provide solutions through interior design works. She found all the courses and knowledge she gained extremely beneficial in the process and outcome of designing the layout for this competition. Of course, she hopes that her work will attract public attention and be implemented to preserve Indonesia's historical heritage.
Krisabell's achievements are a clear testament to UPH's commitment to continue to support and encourage each student to excel in various national and international competitions. Let's maximize your potential with UPH Interior Design! For more information, please contact Student Consultants at 0811-1709-901 or register here.