Wednesday, 09 November 2022
14:00:00 - 16:00:00
Via ZOOM Meeting
Business & Management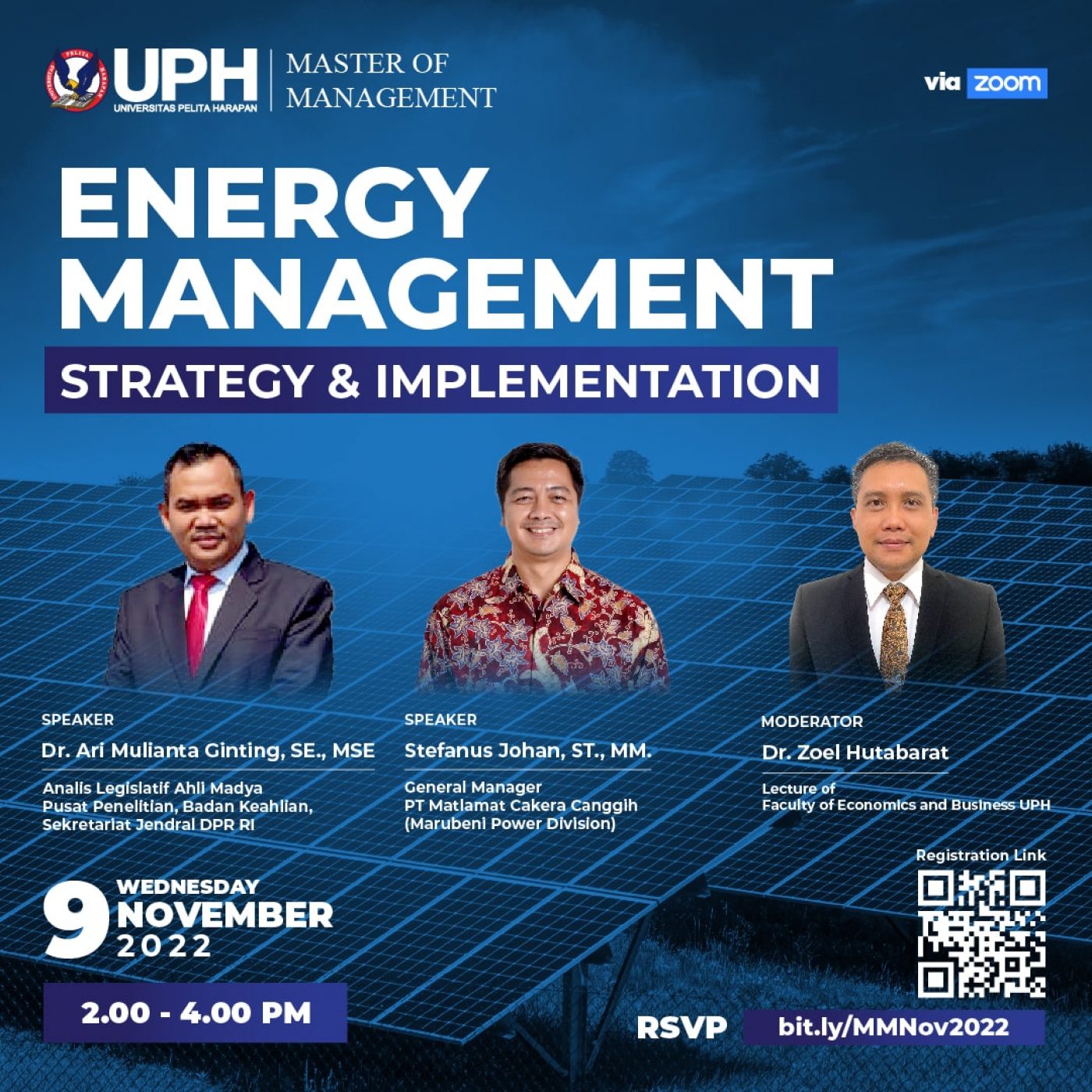 Salam Hangat dari Universitas Pelita Harapan!
Kami mengundang Bapak/Ibu untuk hadir dalam webinar UPH yang diselenggarakan oleh
Magister Manajemen
Melalui webinar ini, akan dibawakan oleh 2 narasumber dengan ringkasan topik sebagai berikut:
Stefanus Johan, ST., MM – Business Analytics Alumni MM UPH
Topics: Achieving Net Zero Emission: what will our electricity source be in the future?
Indonesia ratified Paris Agreement in Apr 2016, a global framework on tackling climate change. The commitment of each party is expressed through a National Determination Contribution (NDC). Indonesia is committed to reduce its greenhouse (GHG) gas emissions to 29% and to 41% with international support, compared to business-as-usual (BAU) by 2030. Furthermore, speaking at COP26 held in the city of Glasgow, England in November 2021, Energy Minister gives Indonesia's Commitment to Net Zero Emission (NZE) by 2060 or sooner.
The NZE program aims to reduce environmental pollution that potentially cause global warming. Energy (electricity) is one of the sectors that is focused on achieving the NZE program. Various countries have issued new regulations in terms of providing electrical energy that are adapted to the NZE program, including in Indonesia. Now, to reduce the carbon footprint and achieve NZE, the government applies several principles including the use of renewable energy to support future demand of electricity.
Dr. Ari Mulianta Ginting, SE., MSE – Lecturer in MM UPH / Senior Legislative Analyst -Research Center, Indonesian Parliament
Topics: Manajemen Pengelolaan Energi dan Pengembangan EBT di Indonesia
Manajemen Pengelolaan energi menjadi hal krusial bagi suatu negara. Perang Ukraina dengan Rusia telah membawa dampak kepada beberapa negara khususnya negara-negara yang sangat bergantung kepada pasokan energi dari Rusia. Indonesia sebagai negara yang berdaulat maka sudah seharusnya memiliki manajemen pengelolaan energi yang tepat khususnya terkait dengan potensi sumber daya Energi Baru Terbarukan (EBT). Pengembangan EBT di Indonesia seakan berjalan ditempat dengan pasokan energi mayoritas menggunakan pasokan energi yang berasal dari fosil. Manajemen pengelolaan energi dampak ketegangan geopolitik dan pengembangan EBT menjadi factor krusial dalam menjaga ketahanan energi Indonesia di masa yang akan datang.
Webinar ini terbuka untuk umum namun kuota terbatas!