Thursday, 01 September 2022 - Friday, 02 September 2022
TBA
Public, Art, Culture, Music & Design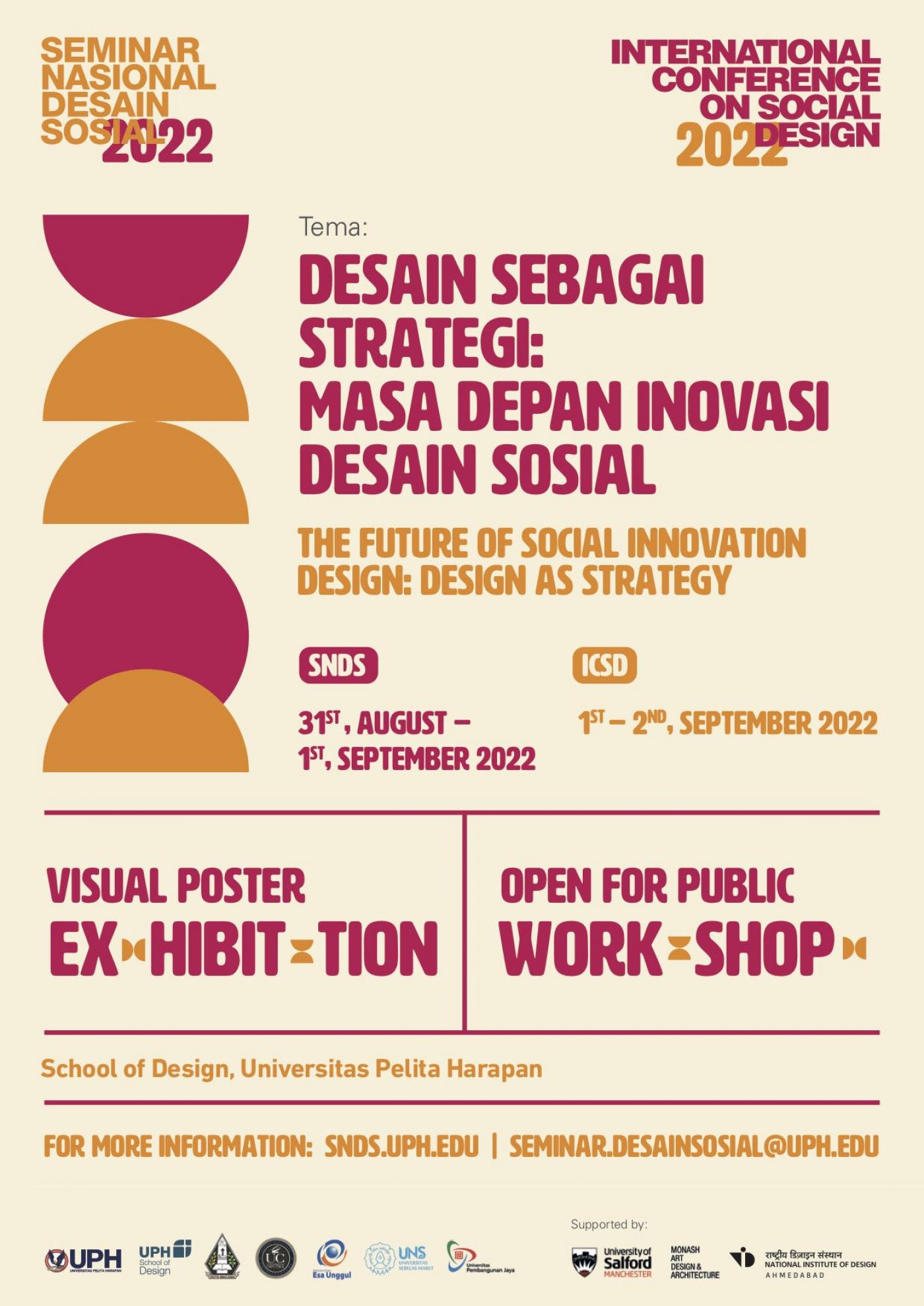 Finally, the Conference that we've been waiting for: Seminar Nasional Desain Sosial & International Conference on Social Design (ICSD) 2022 is here! After the successful 2021 National Seminar on Social Design, UPH School of Design alongside 5 partner from local university and supported by 3 reputable overseas University escalate the exciting discussion on Social Design into International scale.
The conference will be held from 31st of August to 2nd of September. It will be enriched with exhibitions and workshops, all to discuss the future of social innovation design, where design is a strategy that give transformational and redemptive impact for the society!
This year, we are conducting two conferences: Seminar Nasional Desain Sosial (SNDS) and International Conference on Social Design ( ICSD). SNDS will be conducted in Bahasa Indonesia, while ICSD will be conducted in English.
Both conferences will be conducted online, and feature different keynote speakers and different panelists.
For parallel sessions, we organize two different methods for the presentation:
Panel Presentation: Every presenter will be given a 5-minute presentation time in a panel session attended by a live audience.
Poster Presentation: The presenter does not need to present their presentation, but is asked to provide an infographic describing their published content. Each infographic will be reviewed for clarity, and later curated for an online exhibition as part of the poster presentation.
Join us in this exciting international event! Click www.snds.uph.edu and contact us at seminar.desainsosial@uph.edu
---
Visit our study programs by clicking the followings: