Workshop: Realignment of Curriculum
.
Thursday, 28 July 2022
08:15:00 - 16:00:00
Aryaduta Karawaci - Ebony Ballroom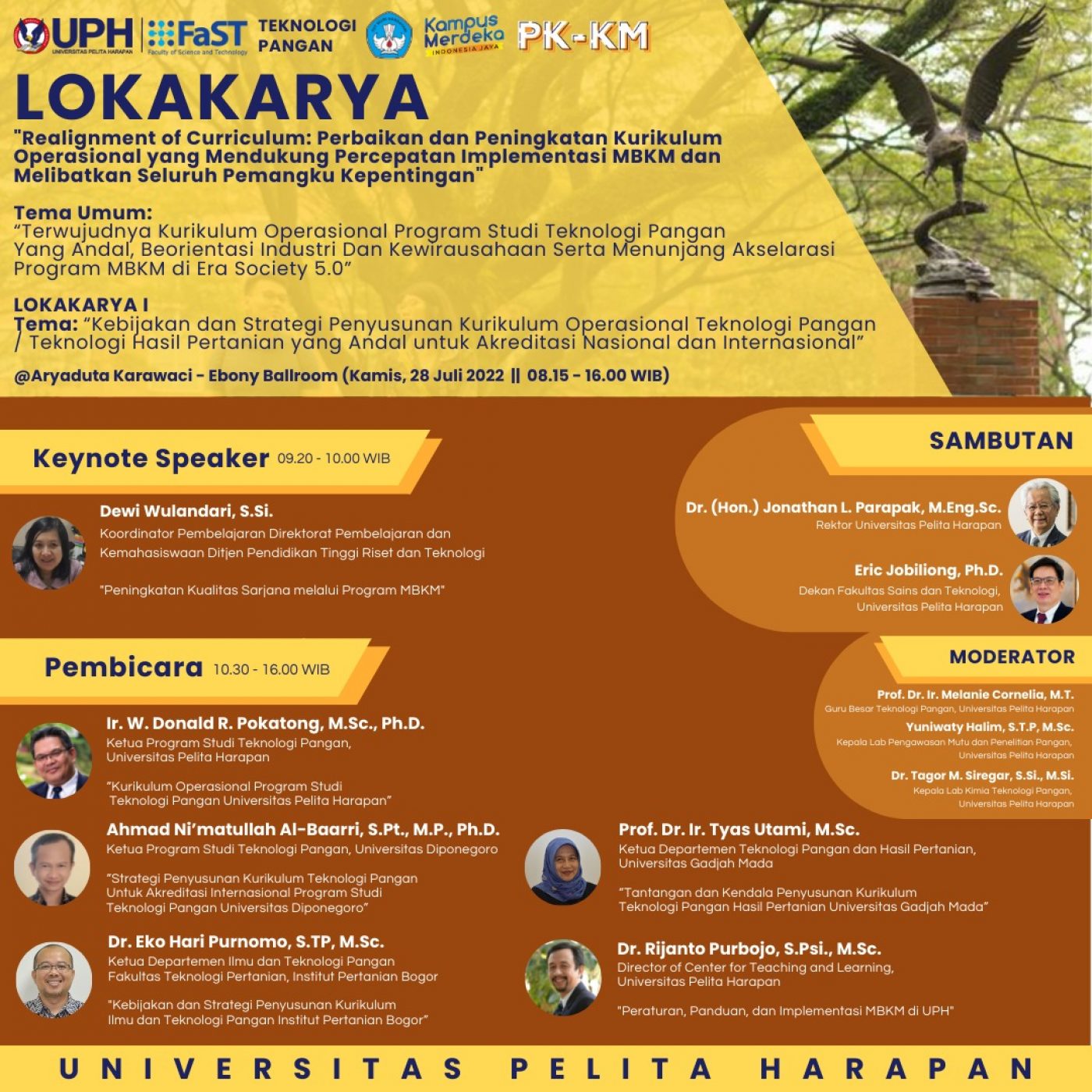 Food Technology Study Program Pelita Harapan University proudly present:
Workshop on Realignment of Curriculum: Improvement and Enhancement of Operational Curriculum that Supporting Accelerated Implementation of MBKM and Involving All Stakeholders.
General theme: "Realization of Operational Curriculum for the Food Technology Study Program that is Reliable, Industrial and Entrepreneurial Oriented Supporting Acceleration of the MBKM Program in the Society Era 5.0"
This workshop is one of a series of activities funded by the Program Kompetisi-Kampus Merdeka (PK-KM) and consisting of 4 workshop sessions.
1'st session: Thursday, July 28, 2022, 08.15-16.00 WIB
Theme: Policy and Strategy for Construction of Operational Curriculum of Food Technology/ Agricultural Product Technology for National and International Accreditation
Venue: Ebony Ballroom, Hotel Aryaduta, Lippo Village
Opening Remarks:
Dr. (Hon.) Jonathan L. Parapak, M.Eng.Sc.
Rector, Universitas Pelita Harapan
Eric Jobiliong, Ph.D
Dean Faculty of Science and Technology
Keynote Speaker :
Dewi Wulandari, S.Si
Learning Coordinator Directorate of Learning and Student Affairs Directorate General of Higher Education Research and Technology
Topic: Improving the Quality of Undergraduates through MBKM Program
Speaker :
Ir. Wilbur Donald R.Pokatong, M.Sc, Ph.D
Head of Food Technology Study Program, Pelita Harapan University
Topic: Operational Curriculum of UPH Food Technology Study Program
Ahmad Ni'matullah Al-Baarri, S.Pt, M.P., Ph.D.
Head of Food Technology Study Program, Diponegoro University
Topic: Strategy for Curriculum's Arrangement of Food Technology Study Program for International Accreditation of Food Technology Study Program Diponegoro University
Dr. Eko Hari Purnomo, STP, M.Sc.
Head of Department of Food Science and Technology, Faculty of Agricultural Technology, Bogor Agricultural University
Topic: Policy and Strategy for Arrangement of Food Science and Technology Operational Curriculum
Prof. Dr. Ir. Tyas Utami, M.Sc.
Head of Department of Food and Agriculture Product Technology Gadjah Mada University
Topic: Challenges and Obstacles in the Arrangement of Curriculum for Food and Agricultural Product Technology
Dr. Rijanto Purbojo, S.Psi., M.Sc.
Director of Center for Teaching and Learning
Topic: Regulations, Guidelines, and Implementation of MBKM at UPH