UPH Partners with Samford University to Ensure Students Ready to Compete Globally
.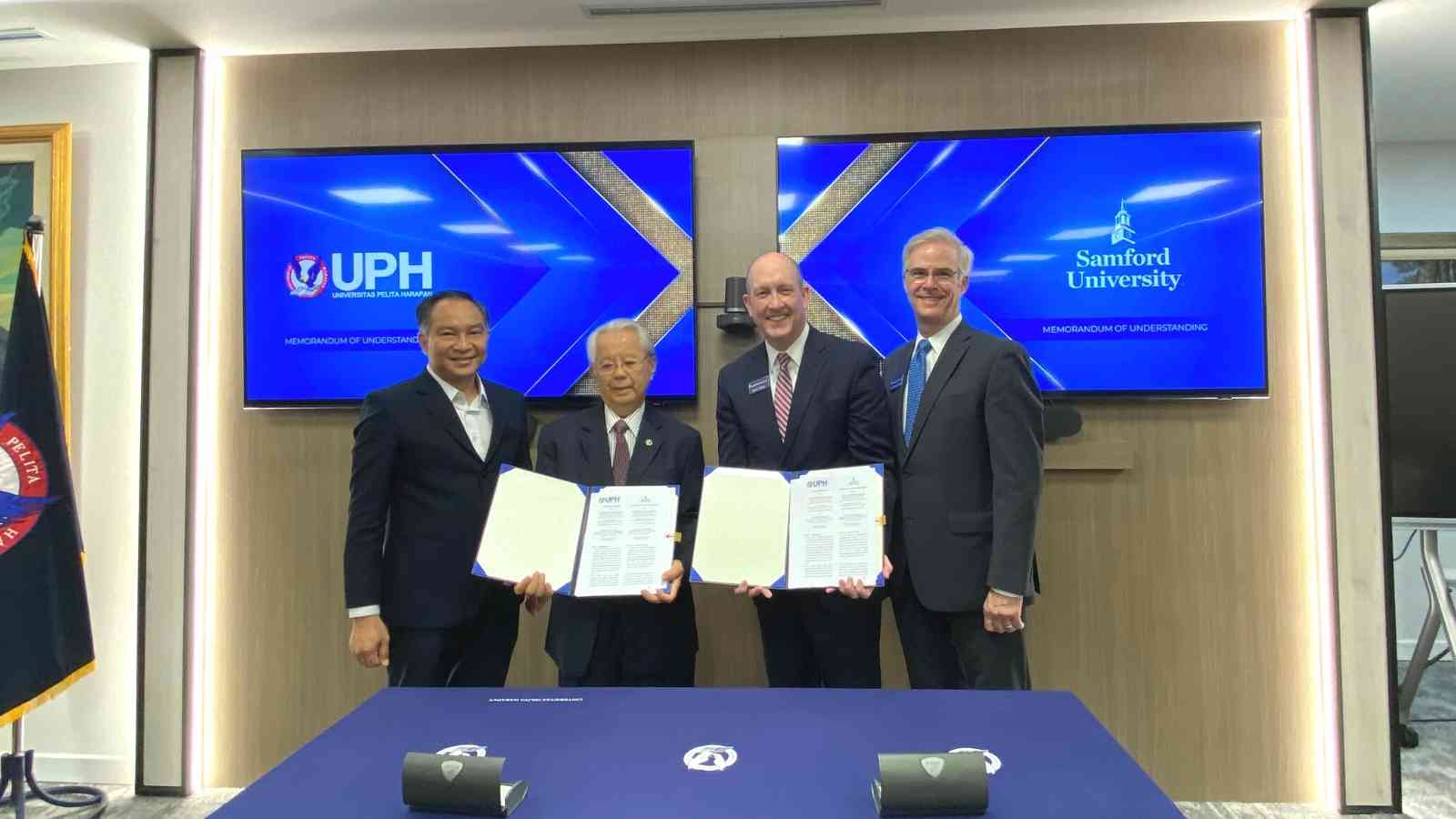 The rapid development of technology and increasing global competition have presented new challenges for students. They are now required to have diverse skill sets and broad knowledge to thrive in this competitive environment. For this reason, Universitas Pelita Harapan (UPH) has undertaken numerous initiatives to ensure the student's success, including student exchange programs with top international university partners. Among them is Samford University with which UPH has signed a Memorandum of Understanding (MoU) extension on 27 October 2022 in UPH Lippo Village, Karawaci.
The MoU was signed by UPH Rector Dr. (Hon.) Jonathan L. Parapak., M. Eng. Sc., UPH Vice President for Marketing and Growth Binsar Pandiangan, Samford University President Dr. Beck A. Taylor, as well as Samford University Vice President for Finance, Business Affairs, and Strategy Dr. Collin M. Coyne.
Samford is a leading university in Birmingham, United States. It was ranked first nationally for its Student Engagement program in 2022 and is listed as the number one top university in Alabama, since 2016.
Dr. Beck A. Taylor stated, "We highly appreciate the partnership that has been established so far with UPH. UPH has proven itself as a reputable university producing competent graduates, especially in the field of education, nursing, and health sciences. We hope that the programs in this partnership, particularly the student exchange will help the student to expand their horizon internationally. This is also a good opportunity for students to learn each other's local culture".
Having been partnered for over ten years, both Samford University and UPH had worked collaboratively to produce innovative, creative, and beneficial programs for the students. Among them is the Musical Theatre Workshop by UPH Conservatory of Music in 2019, the Indonesia Folktales and Culture exploration program in 2017, and the Cross-Cultural Practicum program in 2018 where Samford University students were given the opportunity to teach in Sekolah Lentera Harapan, Sekolah Dian Harapan, and Sekolah Pelita Harapan. All these programs are held as part of a partnership between UPH and Samford University. In the future, the programs will expand to include joint research, academic and scientific activity participation, education materials and publication exchange, as well as lecturer or researcher exchange.
UPH Rector also stated that the collaboration with international partners demonstrates UPH's consistent efforts to improve educational quality and become an international standard university.
"We look forward to seeing the results of this partnership with Samford, in form of student exchange, research, or other scientific publication activities. I hope that both UPH and Samford can learn from each other to enhance the students' competency," added the UPH Rector.
Global Partnerships & International Office UPH
UPH Global Partnerships & International Office facilitates a variety of programs that equip and prepare students to become global citizens with global insight. UPH is committed to providing opportunities for its students to gain international knowledge and improve their quality through a network of strong and broad strategic partnerships with universities around the world. Let's join UPH! For more information, call Student Consultants at 0811-1709-901 or register online.