Page 8 - MEDICINE Brochure - UPH 2022
P. 8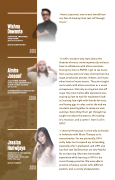 Wishnu Dewanta
COMPOSER, ARRANGER, CONDUCTOR @WISHNUDEWANTA
MUSIC COMPOSITION
2012
Almira Joesoef
JAZZ SINGER, WINNER
OF MLD JAZZ COMPETITION, SOFAR SOUNDS JAKARTA @INIALMIRA
PERFORMING ART PRODUCTION MANAGEMENT (PAPM)
2009
Jessica Hariwijaya
THERAPISY IN THE MEDICAL REHABILITATION DEPARTMENT OF SILOAM LIPPO VILLAGE
MUSIC THERAPY
2013
"Music is personal and no one should have any fear of showing their real self through music."
"In UPH, we don't only learn about the theories of music, more importantly, we learn how to collaborate with other musicians. During my time in PAPM, I got to see music from various points of view; starting from the stage, production process, theater, and many other kinds of music events. They also taught me to work with other musicians as a music entrepreneur. Not only on stage but also off stage. My most memorable experience was staying up late to wait for equipment load- in, learning late night with friends for tests, and having gigs in cafes; and at the end we created a band together to make our own earnings. Everything that I got through has taught me about the process, the making
of a musician, and a career. I learn it all in UPH."
"I chose UPH because it is the only university in Indonesia with Music Therapy as its concentration. For me personally, UPH
really helps me to expand my networking, especially after I graduated, and UPH also has first-rate facilities that are very helpful for our learning. My most memorable experience while learning in UPH is the music therapy practice. We were able to practice a therapy session with different patients and a variety of populations.