UPH Partners with OTTO Health Care to Provide Nursing Graduates with International Exposure
.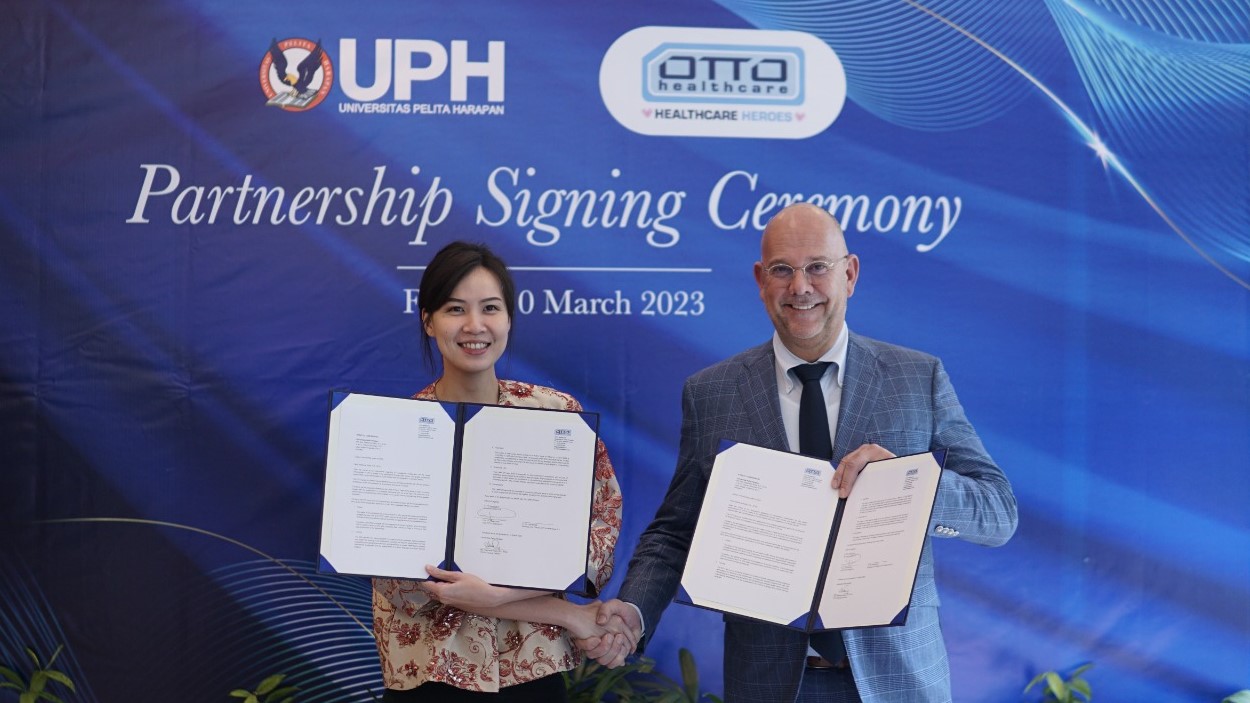 Universitas Pelita Harapan (UPH) and OTTO Health Care have signed a Letter of Intent (LoI) to establish an international placement program for UPH's Faculty of Nursing (UPH FoN) graduates in the Netherlands. The LoI signing ceremony took place on Friday, 10 March 2023, at UPH Lippo Village Campus.
The partnership aims to provide UPH FoN graduates with international exposure, allowing them to work and upskill themselves overseas and then return to Indonesia to make changes in the healthcare industry. Through this program, UPH FoN graduates will have the opportunity to work in the Dutch Healthcare System, which is currently facing a shortage of nurses.
In her remarks during the signing ceremony, Stephanie Riady, Yayasan Pendidikan Pelita Harapan Executive Director, expressed her gratitude to OTTO Health Care for exploring this partnership with UPH. She also mentioned that UPH has the vision to grow beyond Indonesia and cater to the needs of other countries.
"We are pleased to have our first partnership with Europe on Nurse training and placements within the Dutch Healthcare System. This circular migration is a win-win situation that will bring tremendous benefit to the healthcare systems in the Netherlands as well as in Indonesia," said Stephanie.
Frank van Gool, CEO of OTTO Health Care, also expressed his excitement about the partnership, stating that both institutions share similar values, including a go-getter approach, a step-ahead approach, and an innovative mindset. He also expressed his admiration for UPH's facilities, programs, and education provided to the nurses.
In response to the partnership, UPH Chief Academic Officer (Provost) and Executive Dean of the Faculty of Nursing Christine L. Sommers expressed her enthusiasm for the international placement program, stating, "We are excited about this program, which offers our graduates the chance to work and upskill themselves overseas, and then return to Indonesia to apply their knowledge and make a difference in healthcare. We believe that this initiative will equip our nursing graduates with the necessary skills and create meaningful changes in the healthcare sector in Indonesia."
The signing ceremony was witnessed by representatives from both institutions and partners, including Christine Wijaya as UPH Deputy Director of Human Resources Department and Director of Global Partnerships and International Office, Grace Solely as UPH Faculty of Nursing Dean, Sophie van Hoenselaar as OTTO Health Care Business Unit Director, Ivana Janovska as OTTO Health Care Onboarding Manager, as well as representatives from ETZ Hospital and HMC Hospital from the Netherlands.
Overall, the partnership between UPH and OTTO Health Care will provide UPH FoN graduates with valuable international exposure and the opportunity to make changes in healthcare in Indonesia.
Global Partnerships & International Office UPH
UPH Global Partnerships & International Office facilitates a variety of programs that equip and prepare students to become global citizens with global insight. UPH is committed to providing opportunities for its students to gain international knowledge and improve their quality through a network of strong and broad strategic partnerships with universities around the world. Let's join UPH! For more information, call Student Consultants at 0811-1709-901 or register online.