Thursday, 11 August 2022
08:15:00 - 15:30:00
Hope Building, UPH Lippo Village
Science, Technology, Engineering & Mathematics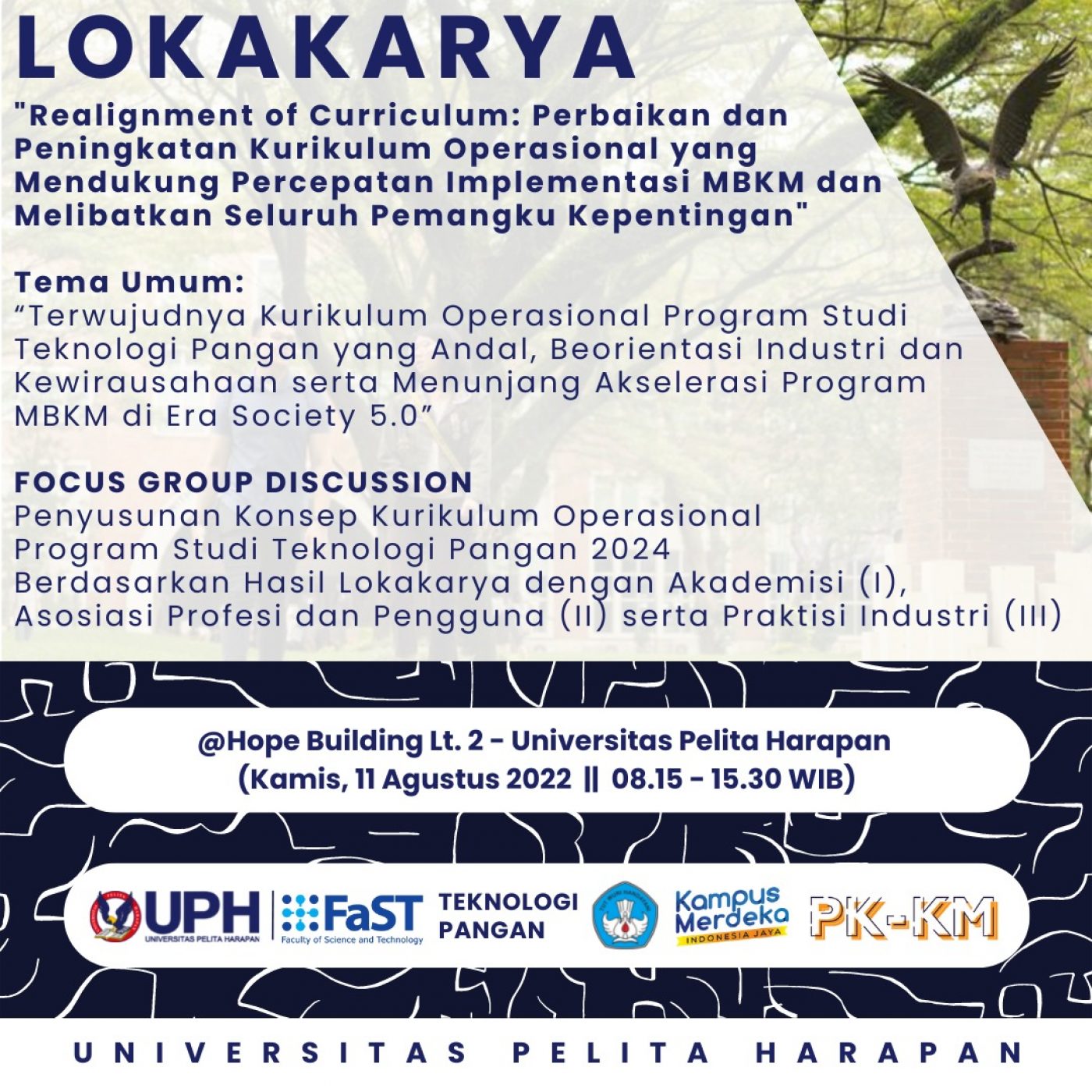 Food Technology Study Program Pelita Harapan University proudly presents:
Workshop on Realignment of Curriculum: Improvement and Enhancement of Operational Curriculum that Supporting Accelerated Implementation of MBKM and Involving All Stakeholders.
General theme:
"Realization of Operational Curriculum for the Food Technology Study Program that is Reliable, Industrial and Entrepreneurial Oriented Supporting Acceleration of the MBKM Program in the Society Era 5.0"
This workshop is one of a series of activities funded by the Program Kompetisi-Kampus Merdeka (PK-KM) and consisting of 4 workshop sessions.
4'th session:
Thursday, August 11, 2022, 08.15-16.00 WIB
Focus Group Discussion:
Construction of Operational Curriculum of Food Technology Study Program 2024 According to The Result of Workshop with Academics (I), Users and Profession Organization (II), and Food Industrial Experts (III)
Venue:
Hope Building 2'nd Floor, Pelita Harapan University
Opening Remark:
Eric Jobiliong, Ph.D – Dean of Faculty of Science and Technology
Speaker:
Ratna Handayani, MP -Head of Food Technology Study Program, Pelita Harapan University
Topic: Summary of Workshop Results with Academics, Users and Profession Organization, and Food Industrial Experts.