UPH Partners with Indiana Wesleyan University to Enhance Nursing Education Quality
.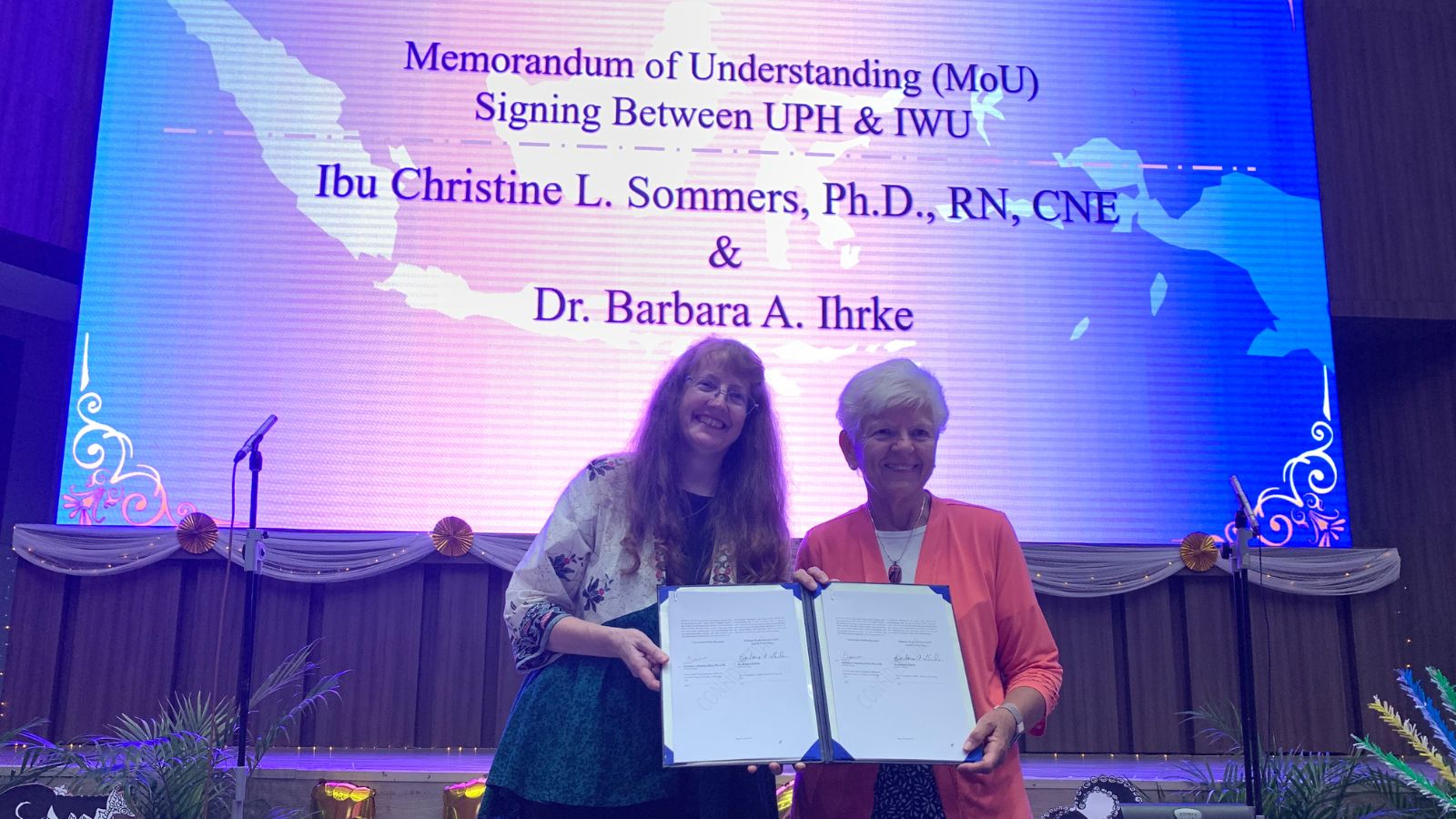 Lecturer competency and quality of learning are two of the most important factors determining the quality of a university. Universities must consistently strive to improve these two aspects to be able to produce quality graduates who can bring positive impacts to society.
Efforts to improve the lecturer's competency and learning quality have been consistently pursued by Universitas Pelita Harapan (UPH) Faculty of Nursing (FoN), one of them being through partnerships with overseas university partners with similar visions and missions. In this light, on 30 September 2022, UPH FoN signed a Memorandum of Understanding (MoU) with Indiana Wesleyan University (IWU) in the United States. The MoU signing ceremony was held in the Auditorium of the UPH Faculty of Medicine Building, Lippo Village, Tangerang.
The MoU was signed by UPH Vice Chancellor for Academic Affairs (Provost) & Executive Dean of the UPH FoN Christine L. Sommers, Ph.D., RN, CNE, and Indiana Wesleyan University School of Nursing Vice President of Academic Affairs Dr. Barbara A. Ihrke. This partnership includes a furthering of UPH FoN lecturers' education to Doctoral Degree with the title Doctor of Nursing Practice (DNP) at IWU. Moreover, IWU will provide professional development regarding online teaching principles/practices and research in nursing education, student exchange, as well as joint research.
Regarding this partnership, Dr. Barbara stated that UPH and IWU share the same vision of expanding global health sciences, and she believes that the partnership will result in many sustainable programs to improve the quality of education on both sides.
"IWU has been working with UPH for almost 5 years, and we had a very special experience with UPH. We trust UPH and agree to extend our collaboration." IWU and UPH share the same vision, which is to advance global health science, and this partnership allows us to further explore our potential and learn together. "I hope that this collaboration continues for a long time and may produce many programs that can enhance the capability of lecturers and students at each university," Dr. Barbara said.
Christine Sommers responded positively to this partnership extension, stating that it was part of UPH's effort to produce excellent and competent nursing graduates. She believes that the nursing profession have a significant role in the future, as evidenced by Indonesia's experience with the Covid-19 pandemic.
"During the pandemic, nurses and other medical workers played a significant role, we see evidence that nurses worked sincerely and wholeheartedly. Even after the pandemic is over, I'm sure that there will be more and more demand for competent. Globally, the need for nurses will continue to increase, and of course, this will also affect the demand for nursing education, be it bachelor, master, or doctoral. I am grateful for this partnership between UPH and IWU as it enables us to prepare professional nurses as well as improve the quality of UPH FoN lecturers who wish to further their education in the doctoral program," said Christine Sommers.
Christine also expresses her hope that lecturers from the UPH FoN will make use of this opportunity to expand their knowledge and improve their teaching quality, as well as for the students to participate in various programs to improve their skills because students will be the next generation of nurses to serve the Indonesian health sector. "I pray for the nursing students at UPH as the next generation of nurses who will serve Indonesian in the health sector." We are dedicated to helping you become 'The Next Great Achiever.' "Wherever you serve, you must love and serve the patients with all your heart," he added.
UPH FoN ensures that students are trained to become skillful, reliable nursing graduates with service-oriented characters, and are proactive in helping others through the educational curriculum and various collaborative programs that have been established.
UPH Faculty of Nursing
The UPH Faculty of Nursing curriculum focuses on deepening the field of nursing in a holistic, transformational, and critical manner, including nursing science, theory, and practice. Let's join the UPH Nursing Faculty! The full educational assistance program with official ties for the Academic Year (TA) 2023/2024 will soon be available for online registration. For more information, please contact 0812-8499-6168 or visit one.uph.edu.
For those of you who want to continue your education while working, UPH offers a Nursing Employee Class S1 program (Conversion Class). This is an excellent time for D3 graduates who are currently working in hospitals to join UPH. For more information, please contact Student Consultant 0812-8486-3894 or register here.