Food Technology Innovations on Local Food Ingredients on Display in Food Explore 11
.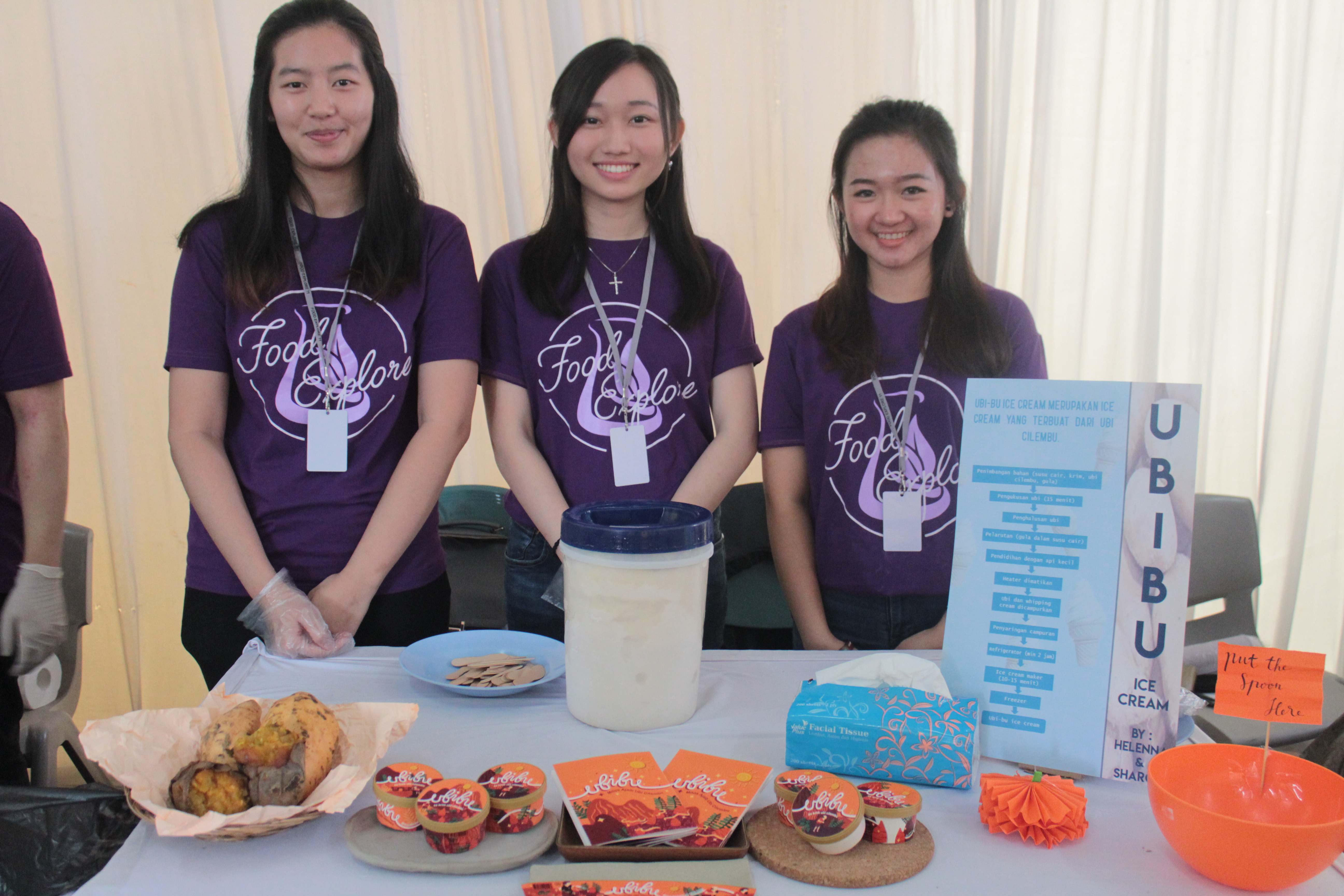 Universitas Pelita Harapan (UPH) Food Technology is known for their attention to the nutritional values of food ingredients. It is important to know the nutritional values in the foods we consume, and this is demonstrated in 15 innovation victuals that are displayed in Food Explore 11, an event held by UPH Food Technology on October 31-November 2, 2018, in Rumah Inovasi, UPH Lippo Village, Karawaci.
The theme of this year's Food Explore is 'Food Local Wisdom & Global Trends', focusing on local Indonesian food ingredients. One of the most interesting products in the exhibition was 'Kebi', a fermentation drink made of kefir, banana peel essence, and purple sweet potato.
This innovation from the mind of Raphael Dimas Tri Nugroho uses banana peel, which contain abundant nutrition, namely carbohydrate (18.5%), glucose (8.16%), fat (2.11%), proteins (0.32%), minerals, and vitamins. This ingredient is necessary for the fermentation of the kefir to occur. The purple sweet potato contributes as an antioxidant and natural food coloring.
"Kebi contains kefir, which is indeed unpopular in Indonesia because of its alcohol composition. However, the alcohol in kefir, which is less than 1%, is really effective when adding the flavor and nutritional value. Kebi uses the same microbes found in Yakult and yoghurt, and these microbes are good for the digestive system," explained Dr. Ir. Adolf J.N. Parhusip, M.Si., a lecturer in UPH Food Technology department, who also assists students in making the fifteen products on display.
This exhibition also features BluMon Pletok, an innovation by Devianita. This drink uses pletok beer, a local Banten produce, as the main ingredient. Clitoria ternatea, a vibrantly-colored flower sometimes known as Asian pigeonwings, and lemon zest is added to flavor the drink and to add vitamin C in the BluMon Pletok.
Adolf explained that this innovative drink focuses on nutritional value, but still ensures an attractive presentation that will attract customers.
"This product changes color because we modified it with other ingredients to make it attractive," Adolf explained.
BluMon Pletok gives out its color thanks to the anthocyanin in the Clitoria ternatea gives its blue color thanks to its anthocyanin. If its acidity is low (low pH), the anthocyanin will turn red, and if its acidity is high (high pH), its color will turn to purple or blue. This innovation is put into use, and its product is a new, attractive produce that can benefit many. (it)