Luhut B. Panjaitan and Grace Natalie Encourages Young Generation to Contribute for Indonesia in UPH Festival 2019
.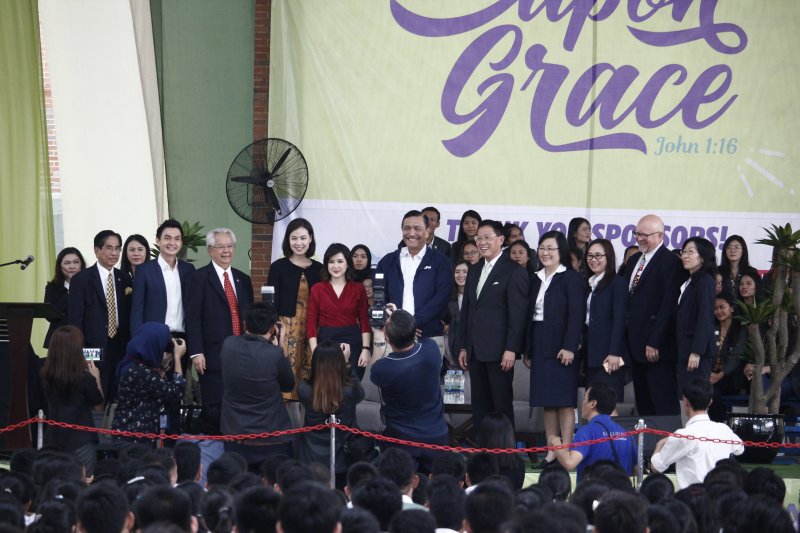 The Coordinating Minister of Maritime Affairs of Indonesia, General TNI (HOR) (Ret.) Luhut Binsar Panjaitan, M.P.A. ,and Chairperson of the Indonesian Solidarity Party, Grace Natalie, attended and gave a lecture to 2,710 new students at the Universitas Pelita Harapan (UPH) Lippo Village Campus as Distinguished Guest Speaker (DGS) on August 14, 2019, during UPH Festival 2019. In his session, General Luhut and Grace advised the younger generation to be concerned with developments happening around and be involved in advancing the Indonesian state.
"In the next 15 or 20 years, you will play an important role in this country, because you are part of the development of this country," said General Luhut, to thousands of students on the basketball court in UPH Karawaci campus, Tangerang.
In his speech titled "Nationalism Towards Superior Indonesia", General Luhut stressed the importance of utilizing the resources we have, and not relying on imports from other countries. This requires transforming mindset and can be realized by the younger generation.
"In my office, there are 17 young people who work with me," he said happily.
"Now, we cannot deal with the economy in conventional ways. Precisely because of these young people I work with that we can change with the times. We succeeded in saving the cost of building the Light Rapid Transit (LRT) of 13 trillion. This is what happens when the ideas of the younger generation contributes to the country's governance," he added.
A similar message was delivered by Grace Natalie. The youngest Chairman of the Political Party in Indonesia gave a number of reasons why young people should dare to be involved in the public sector.
"All the policies taken by the government are the result of DPR discussions. The policies that you agree with or not are all DPR decisions. Now, if you young people don't want to jump in and do something in government, what will happen to our country? "He said, challenging the new students who came in and listened carefully.
"Don't just think, 'that's government business.' You must also follow the development of social issues. Make an effort to prosper Indonesia and pray for Indonesia, because the welfare of Indonesia is your welfare. Make an impact to Indonesia, because you will also feel the impact," said Grace to the students.
Grace Natalie also appreciated UPH for showing concern for the nationalism of the student.
"There are not many campuses which during the orientation period already have a concern to provide the correct frame, which supports them to give back. This is a very good foundation, and not many universities carry out activities like this. I salute UPH. Hopefully from here, many creative and innovative students will be born, with the awareness that everything they do is for Indonesia," she concluded.
UPH Festival 2019
This lecture was the beginning of the 2019 UPH Festival to welcome 4,145 UPH students in 4 UPH campuses: Lippo Village, Semanggi Plaza, Jakarta, Surabaya and Medan. These new students are spread across 13 faculties and 68 study programs. They came from 34 provinces in Indonesia, and there were 195 international students from 30 countries, including Australia, the Netherlands, Italy, Germany, China, the Philippines, Thailand and many other countries.
This year UPH is entering its 25th Anniversary and welcomes new students for the 2019/2020 academic year in its biggest annual event, UPH Festival 2019, which takes place on August 14-17, 2019, at UPH Lippo Village campus, Medan campus, and Surabaya campus. This year UPH Festival 2019 has the theme 'GRACE UPON GRACE' which means, even though humans 'do not deserve' a gift, but because of God's grace, humans are made worthy and justified by faith. UPH believes that everyone has the right to have the same opportunity to meet God personally, regardless of religion.
UPH offers transformative & holistic education to prepare graduates who are not only competent in science but also have good character, based on the vision and mission of true knowledge, faith in Christ and noble character. This was instilled in all UPH new students since first entering the campus world.
---
Further Information
Rosse Hutapea – Head of Media Relations
Contact: 0818731710 / rosse.hutapea@uph.edu