Moneva, One of Top 5 ICINC BEKRAF Finalists, Officially Graduated in UPH Graduation 2019
.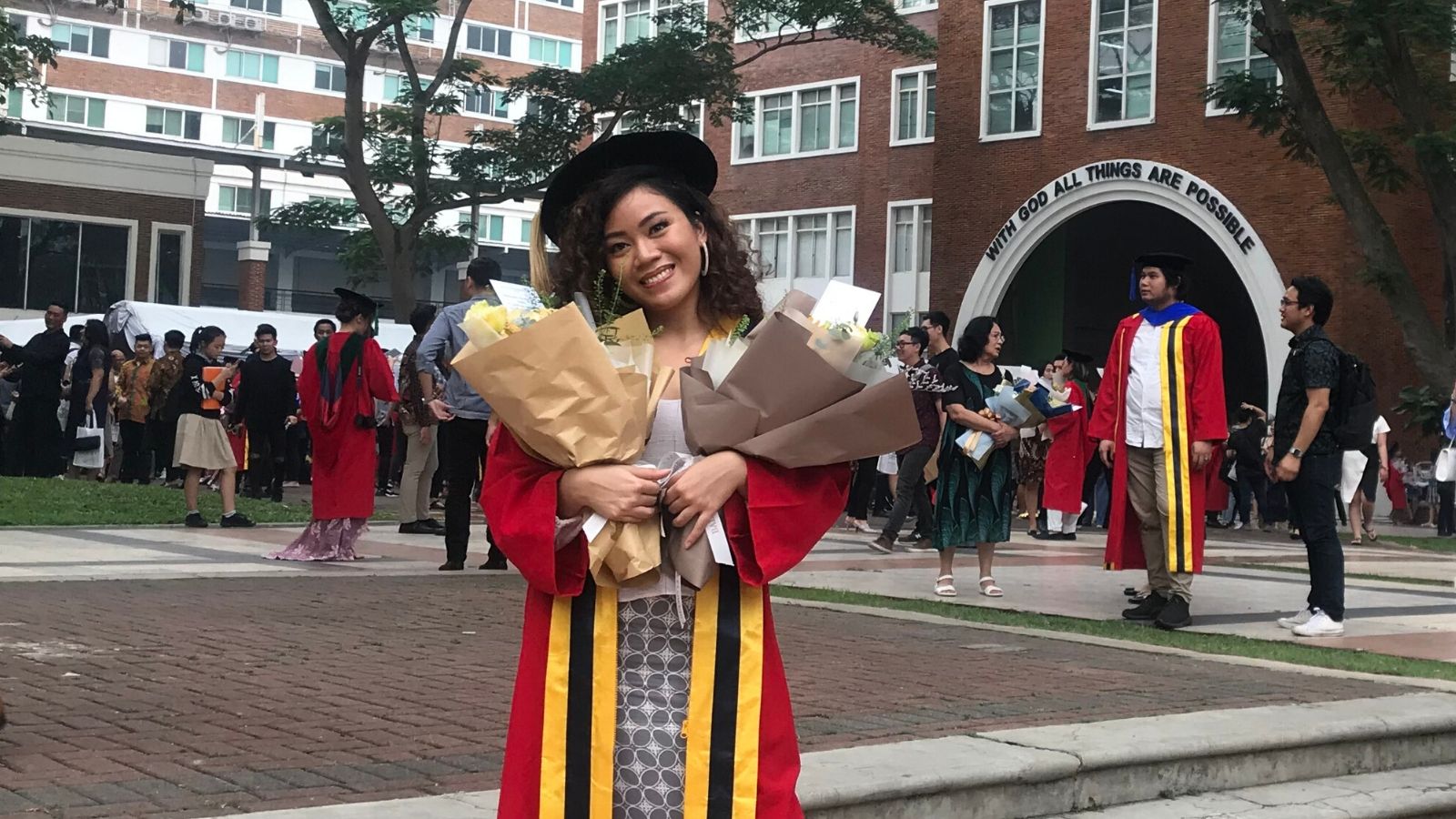 Monica Eva Sancti who is popular by her stage name, Moneva, has officially graduated from the Conservatory of Music (CoM) UPH on November 22, 2019 at UPH Lippo Village along with the other 1755 graduates of UPH. Moneva has become a real-life example of an UPH graduate who paved their career in the creative industry, particularly the music industry, even before her graduation. Recently, Moneva was chosen as one of the four winners of ICINC, a program generated by BEKRAF (Indonesian Agency for Creative Economy) who will be sent to America for a collaboration project.
Her love for music has led Moneva – CoM 2015, to let herself grow even more. By continuing her studies in CoM UPH, she has been able to see and experience the reality of the music industry, and develop her skills and career.
"Becoming a musician is more than just about learning the practical, we have to learn and understand the philosophy, theories, and many ore. Going to CoM UPH has encouraged me to learn all of these. I became even more motivated to grow even better, especially with my fellow musician friends here; the supportive lecturers who supported the growth of our soft and hard skills; and of course, the networking. UPH offers a large networking through its collaboration opportunities with fellow students, lecturers, and many more. These are all very important, especially to support my career. I am very grateful that I have chosen UPH and was able to graduate from this campus," said Moneva, who now is filling her time with off-air and radio performances, as well as song-writing.
In addition to her graduation from UPH, this year has become even more special for Moneva because of one particular experience she has gotten through ICINC that has brought her to Los Angeles, America. ICINC is a talent search program that was generated by Indonesian Agency of Creative Economy (BEKRAF) in collaboration with an American label, 88rising.
"This year, I also got the opportunity to compete with hundreds of contestants in this BEKRAF event, and I even got the chance to fly to the states. This is really meaningful to me, and it surely makes me proud. Through this program, I and the other 4 winners have managed to follow a talent development program in Los Angeles. There, I got the opportunity to meet producers, produce a music video, and even perform in a prestigious music festival 'Head in the Clouds Music and Arts Festival' in Los Angeles, back on August 17, 2019. We were also trained about self-branding, song making and writing, dance, and many more," said Moneva.
Her one moth experience in America has given birth to one of her newest works. 'UP' – Moneva newest single's recording and music video were produced in Uncle Sam's country. Now, everyone can enjoy her newest music through various platforms such as Spotify, Joox, and Youtube.
In the near future, Moneva sees singer-songwriter as something more than just a career. To her, music is a way for her to tell her stories, to share the good message from both bad or good happenings, to share her journey and the value of life. She particularly has one message that she wants to deliver through her works: that everyone has the same chance.
"Everyone has the same chance in achieving their dream career. I was not born from a family of artists I started everything from 0 and I want to show that we all have the same opportunity as long as we live consistently and try to do everything 100%. I want to become an example that everyone can dream and achieve it. My dream was to bring the name of my country, Indonesia, to the international platform. Indonesia is filled with talented people, as a big country we should proof that we too can compete with other countries," Moneva explained enthusiastically.
With her studies and experiences, Moneva has promised that she will enliven Indonesian music industry with her Pop RnB songs. For her, the biggest challenges as well as the keys to her success is to keep looking for uniqueness, be consistent, keep growing, and be confident. Most importantly, she believes that good attitude wins over everything, especially in for someone doing a career in music. For her, without good attitude, no career will be successful. (mt)