Soared as a Champion, UPH VCD Student's Work Decorates the Livery of Garuda Indonesia Aircraft
.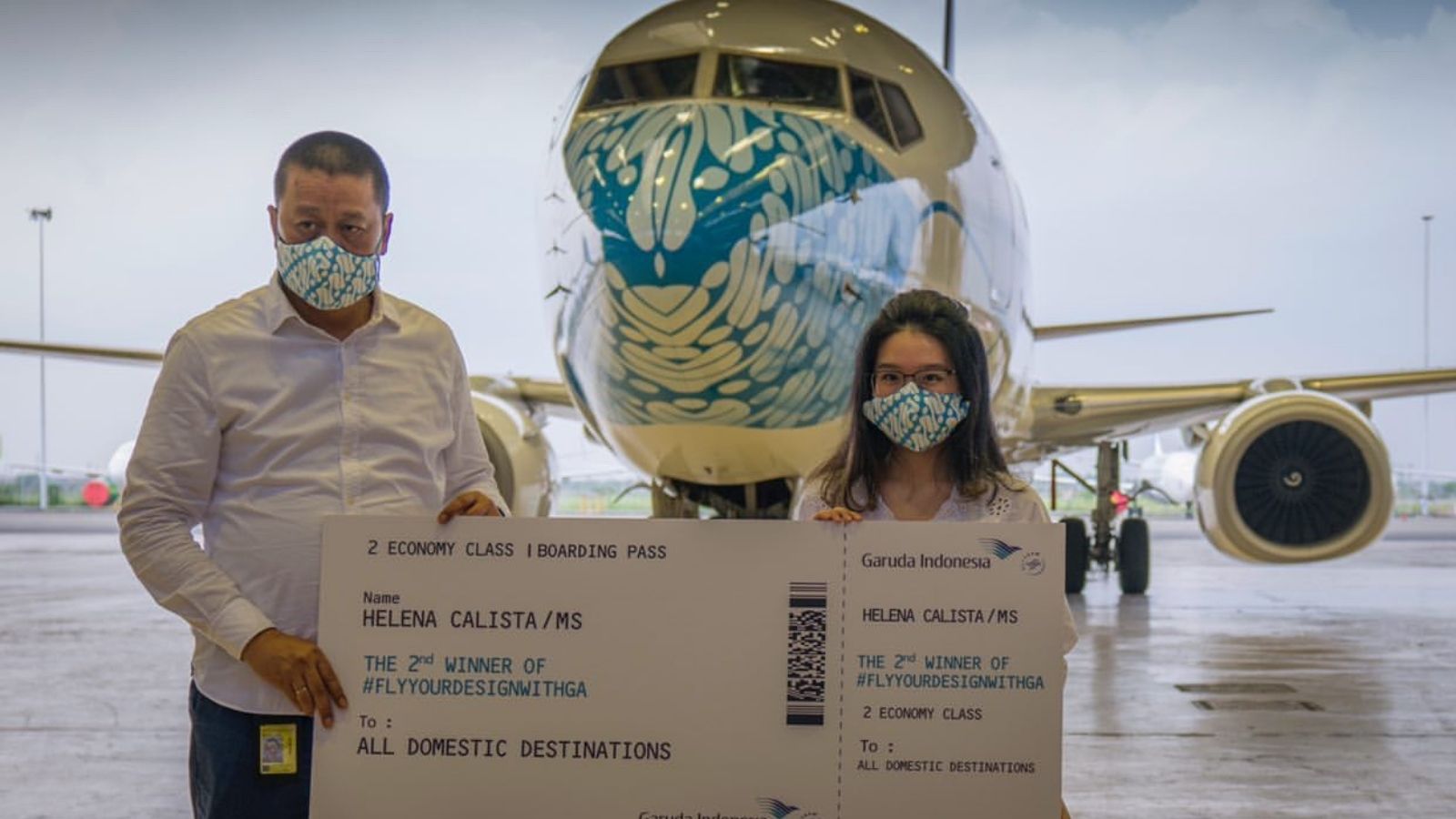 Helena Calista, a Universitas Pelita Harapan (UPH) Visual Communication Design (VCD) student from the class of 2019, successfully won the competition, "Fly Your Design with Garuda Airlines", which was held by Garuda Indonesia. As the winner, Helena's design of batik parang will be printed on the livery – or exterior design – of the Boeing B737-800NG aircraft, under registration code PK-GFK, which will fly various domestic routes. This achievement is surely a testament to the quality of UPH's DCV students, as these qualities are recognized by the airline industry, namely Garuda Indonesia.
"This competition came to my attention through Garuda Airline's campaign Ayo Pakai Masker that was posted on their social media platform. I was driven by the desire to contribute to the nation and cultivate bravery to venture into new things, so I am proud to make it through as a winner. On top of that, my participation in this competition was also meaningful because I get to be a part of Garuda Airline's Ayo Pakai Masker campaign. Through this design, I was able to make a positive contribution to Indonesia's airline industry and the public," declared Helena.
Helena explained that the uniqueness of her design lies on the philosophical decision behind batik parang as the main subject, with its theme of "Terbang Tinggi dan Tetap Terlindungi." (Fly High and Stay Protected)
"I decided to create a design featuring batik, in hopes of preserving the Indonesian culture. Furthermore, this type of batik has a symbolic meaning of endurance, which parallels Garuda Indonesia's vision to fly high with a blazing spirit through this pandemic. The blue color was chosen to reflect Garuda Indonesia's color that gives forth a sense of security and confidence. The typeface that was chosen represents excitement, modernity, and playfulness," said Helena.
According to Helena, the biggest challenge in her process is finding out how to align the concept of her design with Garuda Airline's brand purpose and commitment, and how to adjust her design to fit the physical specifications of aircraft livery while maintaining aesthetic beauty. Additionally, she must compete with participants from all over Indonesia who come from diverse backgrounds and possess exemplary creativity as well.
To realize a design that is appropriate and in accordance with the commitments of Garuda Indonesia, Helena applied the experience and knowledge that she gained at DCV UPH. She explained that DCV UPH has always given her the encouragement to continue to learn, develop herself, and explore various types of designs, which were all useful in this competition. Helena also applied the basic concepts of design along with form content and context that she learned at DCV UPH.
According to Dr. Lala Palupi Santyaputri, S.Sn., M.Si., Chairwoman of UPH DCV study program, this achievement is evidence of the implementation of the spirit of UPH's DCV study program.
"I am very proud of Helena's enthusiasm and creativity to compete, even in the current situation. We, at DCV UPH always challenge students to be productive and utilize their work for positive causes. We are proud that the quality of our students is recognized by an industry at Garuda Indonesia's level. This outstanding achievement reflects the work of our students and the spirit, guidance, and teaching of our lecturers," said Lala.
Dr. Lala recognizes this achievement to be in line with the spirit of UPH's DCV study program that aims to prepare students to become designers with the characters of stewardship and leadership, grounded in true faith. DCV UPH is committed to educate students to become professional designers who can provide solutions through their works. Become a skillful and reliable designer with the quality of UPH education with "Beasiswa 100 Miliar" program. Inquire now—Call 08111-632-838 or visit one.uph.edu!