Indonesian National Team Swimmer, Erick Fathoni, UPH Student Wins Silver Medal at SEA Games 2021
.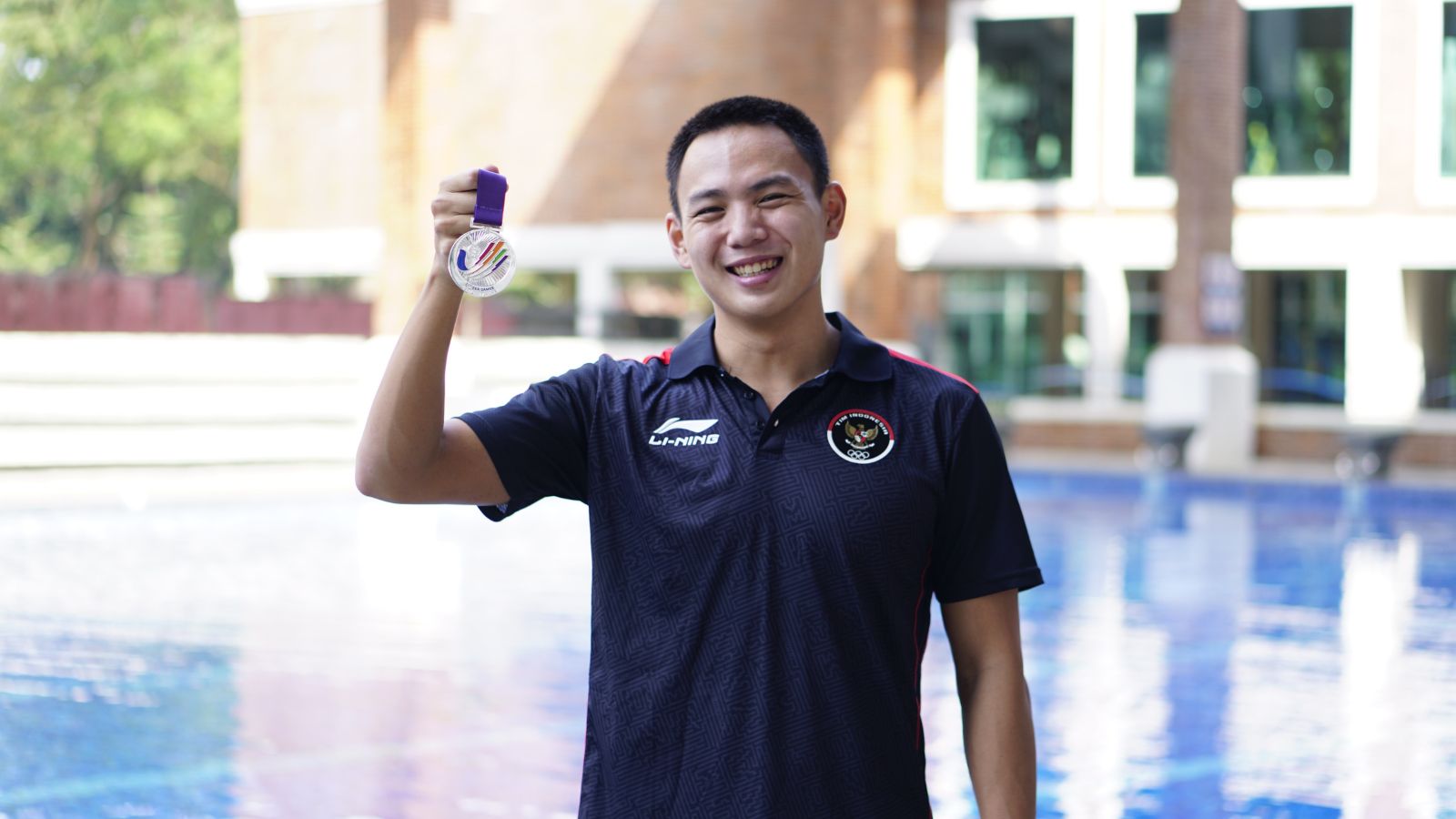 After a 6-month delay due to the COVID-19 epidemic, the 2021 SEA Games was officially held in Hanoi, Vietnam on 12-23 May 2022. Carrying 'For A Stronger Southeast Asia,' as the theme, this event was attended by 11 Southeast Asian countries. Indonesia managed to rank third with a total of 241 medals, including one silver medal in the 4×100 meter freestyle relay men's swimming, which was successfully donated by Erick Ahmad Fathoni, a student of the Management Study Program, Universitas Pelita Harapan (UPH) batch 2021. Erick demonstrated that his young age is not a barrier to achieve success in international competition when hard work and commitment go side by side.
"It is incredible to represent Indonesia at this international tournament. There were challenges and sacrifices to reach this point. Swimming is certainly a must for the Indonesian National Team (Timnas) athletes. We have a 10-time regular practice every week, Monday through Saturday, as well as undertaking a three-time a week physical exercise. We also do weight training and running regularly to train our power," Erick stated.
He said that his struggles and persistence in training were motivated by his desire to become the best swimming athlete in the world so that he could contribute and make his country proud. As a result, he has competed in numerous contests since joining the Indonesian swimming national team, including the National Sports Week (PON), the Indonesia Open Swimming Championship, the SEA Games, and competitions of various levels.
In addition to his consistency, Erick stated that he has had a very supportive environment and relationships since becoming a UPH student, which has made him even more eager to continue to excel.
"The UPH environment really gives positive vibes! Throughout the tournament, I received a lot of encouragement from my college friends and teachers. Despite my busy schedule, I stayed disciplined and focused on my academics. "Fortunately, I have friends at UPH who are willing to assist me when I miss a lesson while competing," said the man from Cilacap, Central Java.
Erick wishes to continue giving his all to Indonesia and to attain success in various other sports competitions such as the Asian Games and the Olympic Games.
UPH Management Study Program
Marketing, Human Resources Investment, Entrepreneurship, International Business, Finance, Retail Management, and Health Management are some of the specializations available at UPH Management. Each student will be equipped with global standard management skills to become aspiring business professionals who will transform not only the working world, but also local and global communities. Let's now join and register for UPH! For more information, please call Student Consultants at 0811-1709-901 or register here.