Music: Means of Communication, Sharing, and Impacting Others
.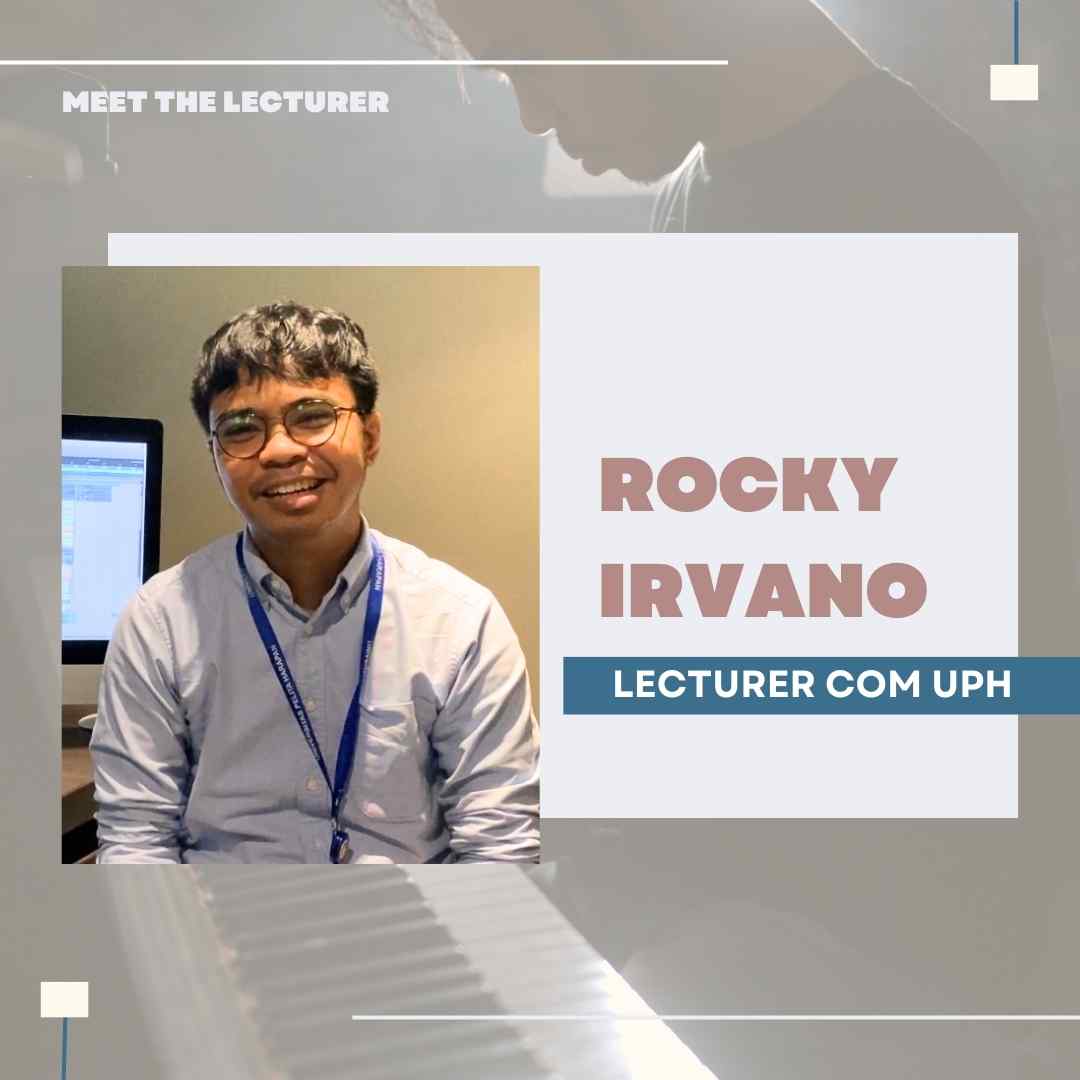 Rocky Irvano, a music composer, views music as a medium for learning and sharing knowledge, as well as a platform for building a successful career. His passion for music led him to become a lecturer at the Pelita Harapan University's Conservatory of Music (CoM) (UPH), an experience that he considers very meaningful. By teaching, Rocky is motivated to continue learning and expanding his knowledge to share it with more people. 
Rocky began his music career in 2012 after obtaining a Bachelor of Arts degree in Music Composition. He focused on working as a composer specializing in music arrangement for several years, working with Rajawali Citra Televisi Indonesia (RCTI) and STEVESMITH Music Production. Wishing to further advance his career, he then decided to pursue a Postgraduate degree in Composition for Screen from the Royal College of Music in London, where he focused on music composition. 
Rocky's hard work and dedication have led to a successful career in music, including composing music for TV series including Scandal, Can You Hear Me?, Bestie, Virgin Mom, and Baby Blues. He also composed music for over 80 well-known TV shows, such as X-Factor, Masterchef, Indonesian Idol, Miss World, and many others.  
His talent has been recognized through various national and international awards, such as Boltini Trust Scholar by The Royal College of Music, The Henry Wood Accommodation Trust, and winning the Ministry of Education and Culture's competition for creating jingles and slogans for National Cultural Heritage in 2015. 
Throughout his career journey as a music composer, Rocky shared that he faced many challenges. In his opinion, the most fundamental challenge is to express his ideas and thoughts through music, which involves self-dialogue. Another challenge is to be able to express his thoughts and ideas through music which is often not an easy process that requires patience.  
External challenges, such as collaborating with other artists and combining various musical elements into a meaningful work, also pose challenges. However, Rocky believes that hard work, good communication, and openness to new ideas can help overcome these challenges. 
"I see challenges in creating music as opportunities that motivate me to grow and expand my musical abilities," Rocky said.  
After more than a decade of experience in the music industry, Rocky has come to realize that everyone's learning path is unique and can be shaped by a combination of formal and informal education. However, he firmly believes that individuals must pursue their musical interests and passions. 
"Music is not only about the sounds we hear but also about the thoughts that inspire it. A person's background, such as family and life journey, can have a significant impact on their musical creations," he explained. 
Through his lectures in music composition, Rocky shares his love, knowledge, and experience with students. He hopes to contribute to the growth of music in Indonesia by empowering students to become skilled and professional musicians with a positive impact on their community.  
Rocky's goal as an educator is to teach students both the technical and creative aspects of music-making and composition so that they can express themselves through meaningful musical works. 
"As an educator, I hope to be able to teach both the technical and creative aspects of music-making and composition to my students so that they can express themselves through meaningful musical works", he added. 
UPH Conservatory of Music 
UPH Conservatory of Music is committed to producing world-class artists, producers, educators, and practitioners in the music industry. With a comprehensive curriculum and competent teaching staff, students are prepared to build a successful career and take part in the music industry. If you are a music lover looking for a career in this field, UPH CoM offers quality and internationally recognized music education. To learn more, call 0811-1709-901 or register here.