Sarah Charista: A Leading Female Conductor in Indonesia
.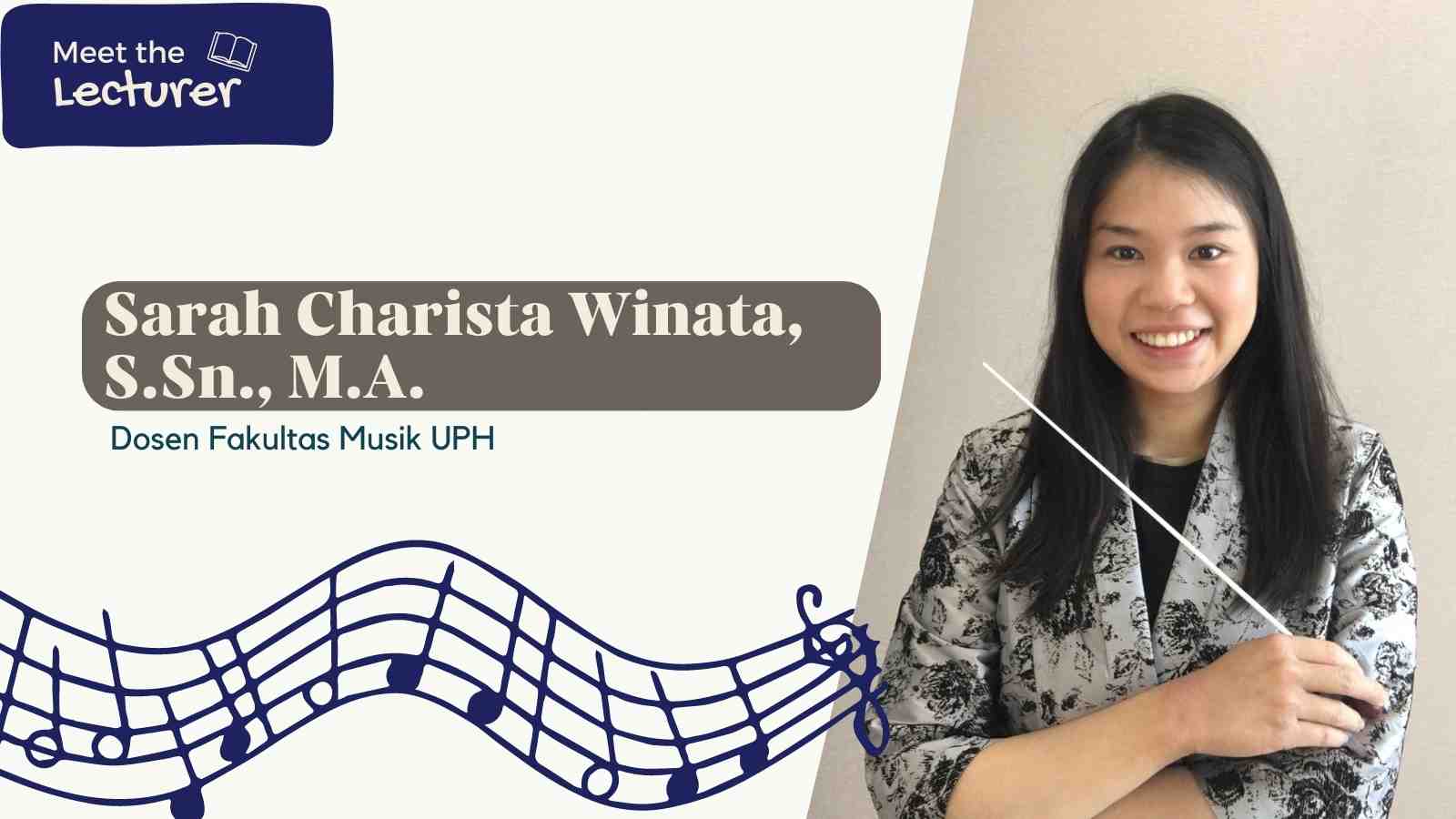 In Indonesia's male-dominated orchestra conducting scene, remarkable female conductors have emerged, and one notable figure is Sarah Charista Winata, S.Sn., M.A., affectionately referred to as Sarah. Originally from Surabaya, she currently serves as a conducting lecturer at the Universitas Pelita Harapan Conservatory of Music (UPH CoM). For Sarah, becoming a lecturer has been a lifelong aspiration, as it allows her to impart knowledge to students while fostering relationships for future musical collaborations. 
At present, Sarah teaches various courses at UPH CoM, including Fundamentals of Music Direction, Choral Direction, Music Theory, and Solfeggio. Additionally, she leads the Pelita University Singers choir and the UPH Choir Ensemble. Her areas of interest include orchestra and choir. 
Sarah obtained her Bachelor of Arts degree in Classical Performance from UPH in 2013 and earned a Master of Arts degree in Choral Conducting from the University of Birmingham, England, in 2018. Beyond her role as a lecturer, Sarah is also involved with the Trinity Youth Symphony (TRUST) Orchestra & Chorus, where she serves as the Chorus Master for children and teenagers. 
One of Sarah's notable achievements was becoming the first Asian woman to lead the Royal Scottish National Orchestra (RSNO) choir, the largest choir and orchestra in Scotland, upon completing her master's education. Her responsibility was to lead RSNO in performing "Brahms: A German Requiem-IV" at the Glasgow Royal Concert Hall in February 2020. 
"At that time, I had the opportunity to do a fellowship with RSNO, thanks to my mentor's support. It felt like a dream, and I am genuinely grateful for that chance. Leading 120 people in the choir, especially in terms of communication, was a challenge. They had no trouble reading the music or pronouncing the German language, as they had sung the song many times before. The challenge was conveying my interpretation of the song, as they were accustomed to singing it the same way," Sarah explained. 
Sarah introduced a fresh interpretation to the composition, and it was delightful to see the RSNO choir embrace these changes and sing them according to her guidance. "I could even see their eyes light up when singing the altered parts. In my opinion, I successfully added a new dimension to the performance," she added. 
Despite lacking a musical family background, Sarah showcased her ability to master singing techniques, vocalization, piano playing, and emotional composure to convey song interpretations within a musical composition. 
"No one in my family has a musical talent. I heard that my grandfather once played the violin, but I don't know if he was a professional musician. My love for classical music grew when I was in a church environment and served as a musician from a young age. That's where I wanted to delve deeper into music. After completing all my formal education, including studying abroad, I finally returned to Indonesia and decided to become a lecturer," Sarah said. 
She applies her diverse experiences and knowledge to her teaching methods, emphasizing that a strong choir performance foundation must be established during rehearsals. 
"Being a conductor isn't just about physical movements but also about conveying the energy to deliver the song's meaning and message to the singers, so that they can get them across to the audience," Sarah explained. 
Sarah believes that the potential for a music career in Indonesia remains open, but she emphasizes the importance of a formal educational background for those aspiring to become proficient musicians. This is why she chose UPH for her initial formal music education. She acknowledges that formal education differs significantly from non-formal alternatives like regular music courses or lessons. Formal education provides a more comprehensive and profound understanding, nurturing not only hard skills but also soft skills such as communication, leadership, and event management. 
In the future, Sarah hopes to see continued growth and development in the Indonesian music industry, particularly in classical music. She encourages aspiring young musicians to maintain consistency, discipline, as well as building network. 
"Instilling consistency and discipline are essential for those serious about pursuing music. These are values I hold dear and convey to my students. Moreover, establishing collaborations with individuals from diverse backgrounds is crucial, as we will need their support for exciting future collaborations," Sarah concluded.