Kegiatan Mahasiswa UPH – Beyond Academics, We Impact Lives
Melalui seluruh program & kegiatan mahasiswa, kamu akan tumbuh sebagai pribadi yang utuh, siap untuk membuat dampak di dalam dan melalui komunitas, baik di dalam maupun di luar kampus. Inilah tempat di mana pertumbuhan rohani, pembentukan karakter, dan pengembangan bakat dihargai dan saling berkaitan.
Berikut ini merupakan jenis kegiatan mahasiswa UPH: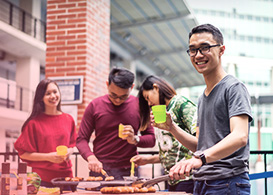 BEYOND ACADEMICS, WE IMPACT LIVES
Here is the place where spiritual growth, character building, and talent development are valued and intertwined. Through all activities & programs, you will grow as a whole person, ready to make an impact in and through communities, both within and outside the campus.