Wednesday, 05 February 2020
Friday, 05 March 2021
UPH Lippo Village
Art, Culture, Music & Design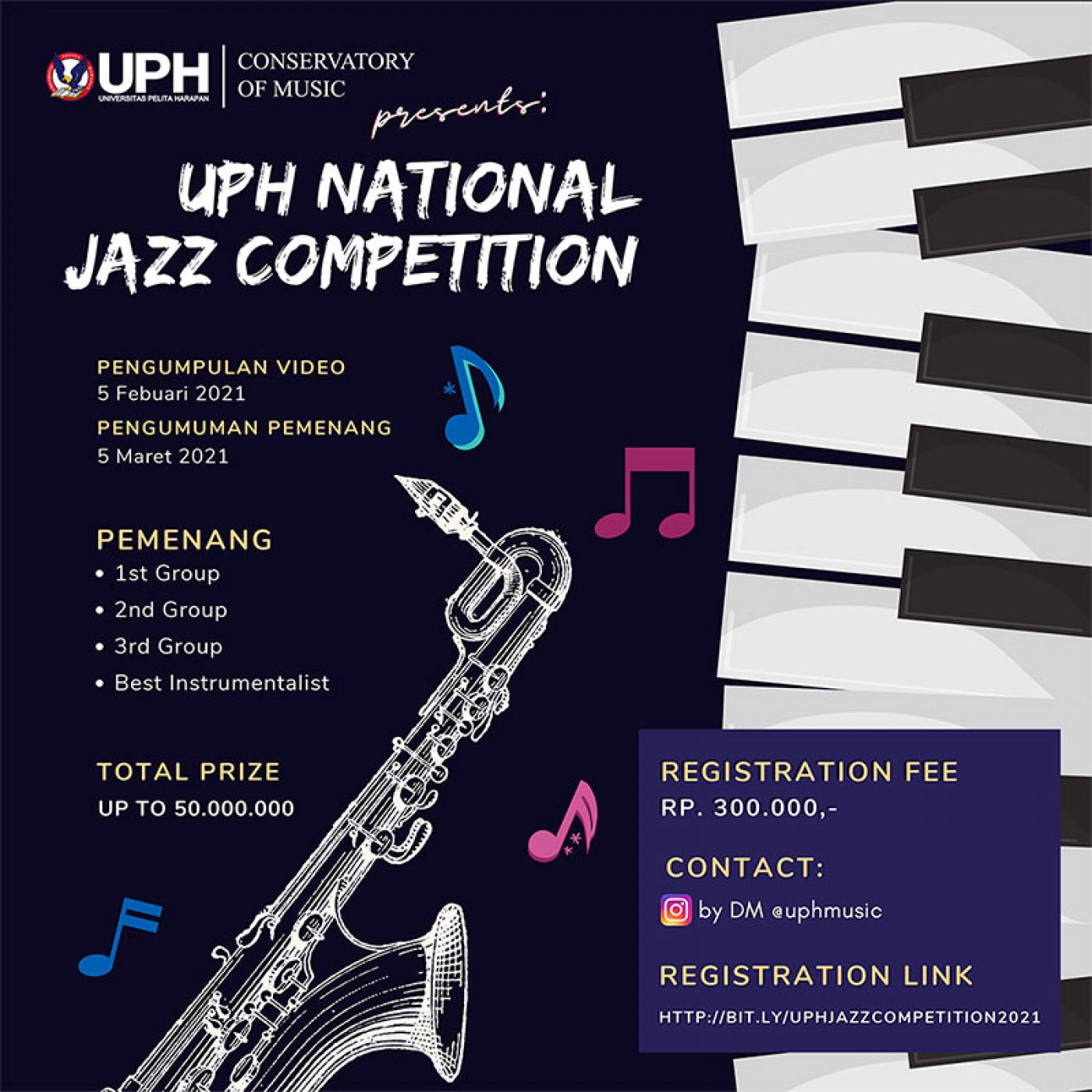 Hi kalian pencinta musik jazz!
Ada kabar baik nih, UPH sedang mengadakan Jazz National Competition lho!
Mari kembangkan kretivitasmu, upload karya terbaikmu, dan tunjukkan bahwa karyamu adalah yang terbaik. Yuk segera daftarkan group kalian sebelum 5 Februari 2021 dan dapatkan Grand Prizenya! Hadiah hingga puluhan juta rupiah dan ada beasiswa juga untuk kalian yang berhasil menjadi best instrumentalis.
Yuk guys dapatkan Grand Prize yang tentunya menarik!
1st prize: Rp. 10.000.000,-
2nd prize: Rp. 7.000.000,-
3rd prize: Rp. 4.000.000,-
Best Instrumentalis: Beasiswa Potongan Uang Pangkal 100% (hanya untuk calon mahasiswa COM UPH)
👏🏻👏🏻 Seluruh hasil karya pemenang akan di publikasikan pada akun IG dan Youtube UPH Conservatory of Music 🤗 Berikut adalah cara submit karya kalian:
Follow akun IG @uphmusic
Subscribe youtube UPH Conservatory of Music
Pastikan akun IG dan Youtube tidak private
Unggah video ke platform media IG/ Youtube masing-masing
Berikan hashtag #UPHNationalJazzCompetition2021
Jika video sudah siap, silahkan submit link video tersebut pada link pendaftaran – http://bit.ly/uphjazzcompetition2021
Link video ditunggu paling lambat pengumpulan video adalah tanggal 5 Februari 2021 pukul 23:59
🎤 Kalo kompetisi online kayak gini kita ngapain aja sih kak? Ini dia jadwalnya:
Pendaftaran tutup 5 Februari 🚫
Proses penjurian 5-26 Februari
Pengumuman 6 finalis terbaik di babak pertama 27 Februari 📢
28 Februari workshop 6 finalis dengan @srihanuraga & @geraldsitumorang
27 Maret – Live video performance finalis, komentar juri, & pengumuman pemenang 🎉
Buat yang masih pengen tanya-tanya jangan ragu langsung DM @uphmusic ya!
Jangan lupa perhatikan Syarat & Ketentuan yang tertera dengan seksama ya, guys.
Link registrasi: klik di sini.
#uphnationaljazzcompetition2021
#uphmusic
#jazzenthusiast