UPH Food Technology Exhibits Thirty Food Technology Innovations to the Public
.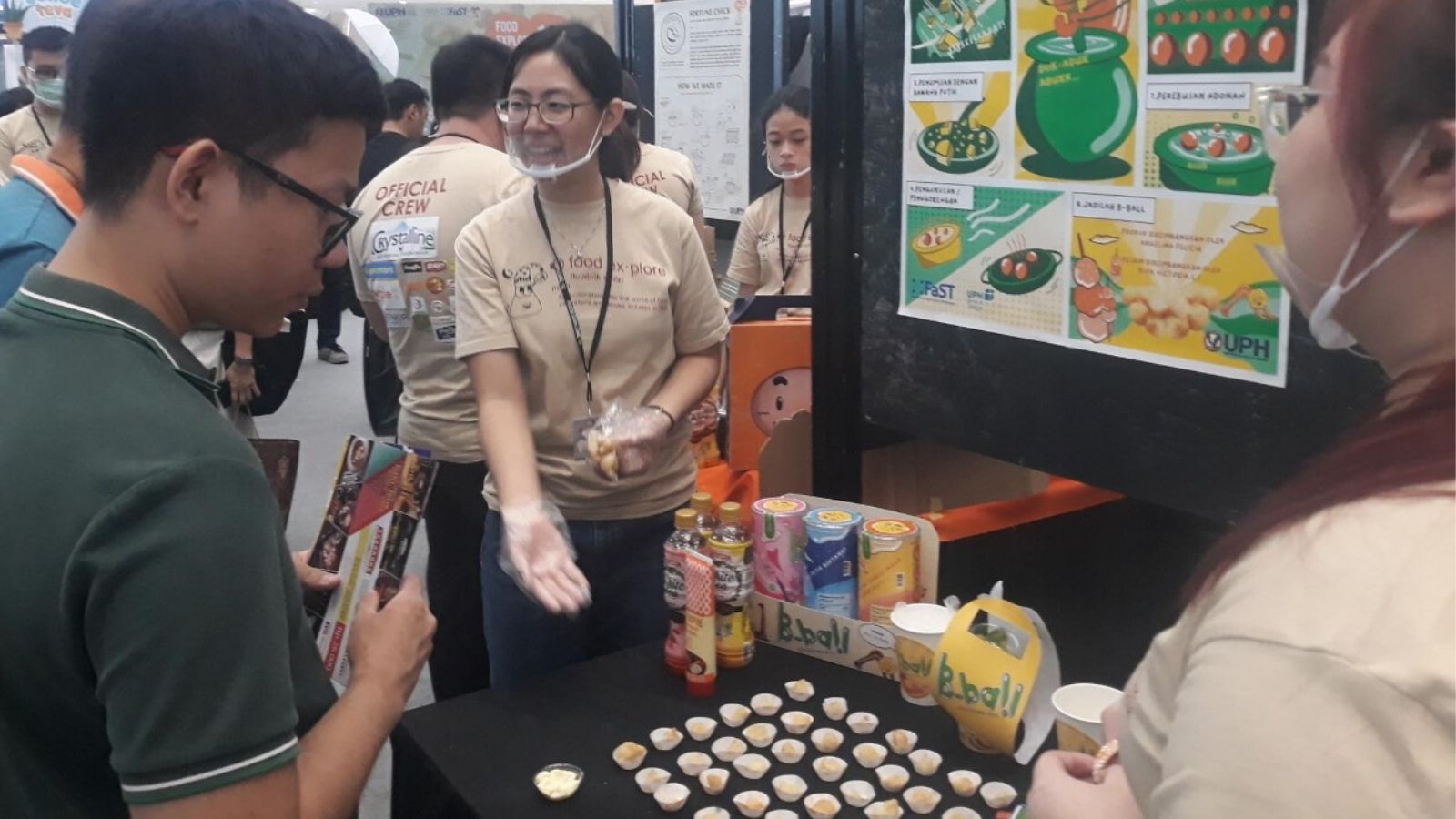 Currently, food security is an issue faced by Indonesia. This is because people are not aware of the food security issue in Indonesia. In reality, the right to obtain food is part of human rights, as written in article 27 of the 1945 Constitution. This article becomes the foundation of UPH Food Technology to contribute to increasing awareness among Indonesian citizens on food security through the Food Explore 12 event.
Taking on the theme "Food Security: Diverse Food Utilization" as the step towards food security in Indonesia, UPH Food Technology held the event Innovation House (Rumah Inovasi), exhibiting thirty food and drink utilization innovations. The event was held from 2 to 3 November 2019 at Lippo Mall Puri, Jakarta.
According to Ir. W. Donald R. Pokatong, M.Sc., Ph.D., the Head of UPH Food Technology, the theme was conceived because it is very relevant to World Food Day that falls on 16 October 2019. World Food Day promotes that the world must be fully released from hunger and must aim to consume a healthy diet. If this can be achieved, food security will be good.
Ir. Donald Pokatong said, "This event was held to prepare and to give the students a means to develop their creativity by innovating in the food industry. Then, to give them the ability to solve problems, we push the students to always be up to date with developments in the food industry.
This year, students are challenged to hold the event outside of UPH. This challenge was aimed so that the public can taste and see food innovations made by the students, therefore increasing awareness about local food security.
Ir. Donald Pokatong added, "We hope that the public will know that the aim of the exhibition was so that students can introduce their innovations and creativity on their food products."
Dimas, the Head of Food Explore 12, saw this event as motivation for UPH Food Technology students to always create and innovate in the food industry, making various products that will benefit local food products.
Among the food products at the exhibition, one of them was a viral drink called bubble milk tea. In general, the bubble milk tea was made by cow milk and corn starch that has less nutrition. However, Michael and Stephanie changed this drink into a delicious and healthy drink.
Michael and Stephanie said, "Our bubble milk tea is unique because it does not use cow milk, meaning that it does not have a lactose ingredient, making it drinkable for everyone. The idea was simple because we are also bubble milk tea lovers. That is why we wanted to make a healthy version of this drink."
The Innovation House Exhibition was also the peak and closing event of Food Explore 12, exposing the students' products to the public. In addition to the exhibition, there were also performances performed by UPH Food Technology students.