Travel Industry Management UPH Students' Industrial Visit to ICE BSD
.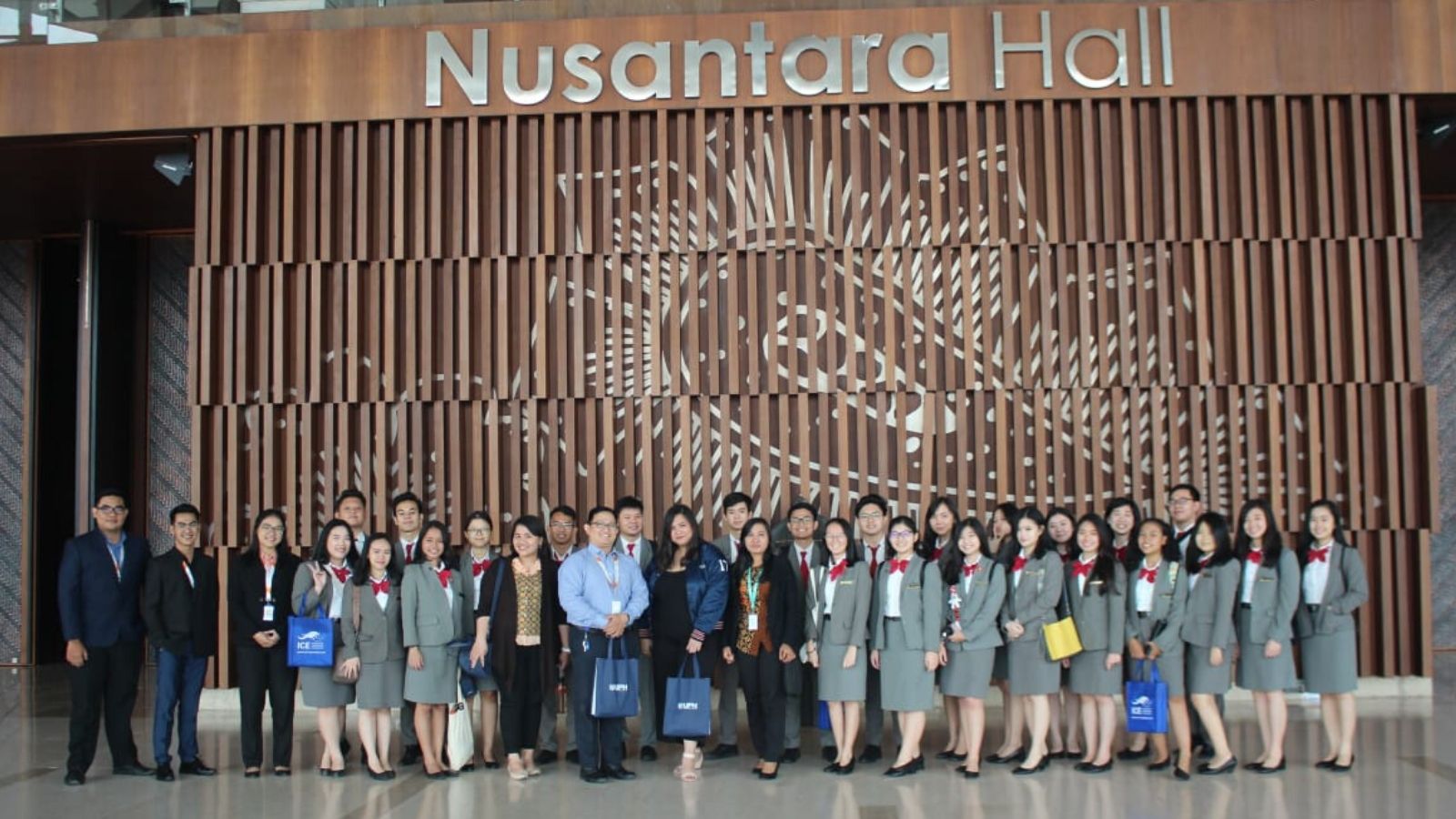 In order to give a practical overview of Meeting, Incentive, Convention, and Exhibition (MICE) related tourism activities, the students of Travel Industry Management program, School of Hospitality and Tourism UPH, did an industrial visit to Indonesia Convention Exhibition (ICE) located in BSD City, Tangerang, on February 4, 2020. A total of 26 students and 2 lecturers, Rosdiana Pakpahan, S.Par., M.Sc., and Nova Irene, S.Par., M.M.Par, took part in this visit. The group was welcomed by the representative of ICE BSD, Indri, as the Marketing and Communication Manager, and Markus Hino, representing the Human Resource Development (HRD).
This activity is a part of a program in the MICE course which aims to expand students' knowledge about the professional world of the tourism industry. Knowing that theoretical knowledge is not enough for them to survive a professional career in the future, students have to be equipped with a practical perspective about the working life directly by the related industry.
ICE BSD is the biggest exhibition and convention center in Indonesia, and one of the biggest in Asia. It is managed by PT Indonesia International Expo, one of UPH School of Hospitality and Tourism's industrial partners. As a part of their collaboration, the company will give a guest lecture, seminar, internships opportunities, and even a recruitment opportunity as ICE BSD management team.
"During this visit, students can observe how a real event organizer operates. The management team also explains to them about the duties and responsibilities of IIG (Indonesia International Graha) as the Event Organizer of all the events held in ICE BSD, starting from venue preparation, organizing the event itself, access, and many more," explained Rosdiana after assisting the group of students.
"This activity will prepare students for their internship program in the next semester. The Management team of ICE BSD thinks that this program is beneficial, especially with the great impression they had received from our internships students who had undergone a 6 months training in ICE BSD. The Management team of ICE BSD also hopes that UPH School of Hospitality and Tourism can recommend our graduates to join their team," said Rosdiana.
Travel Industry Management UPH prepares its graduates to become creative, innovative, and trustworthy tour organizers who can ensure customer's safety and comfort. In addition to that, we also equip them with our value during their learning process-which will be a special characteristic that graduates from other universities might not have.
"We teach them to be customer service oriented; to prioritize customer's satisfaction. We also teach them Christian values, Indonesian cultural values, and to uphold Indonesia's cultural potentials," Yustisia Kristina, Head of Travel Industry Management Program, School of Hospitality and Tourism UPH.