UPH Serahkan Donasi Program 'Featuring The Experts' ke RSU Siloam Kelapa Dua
.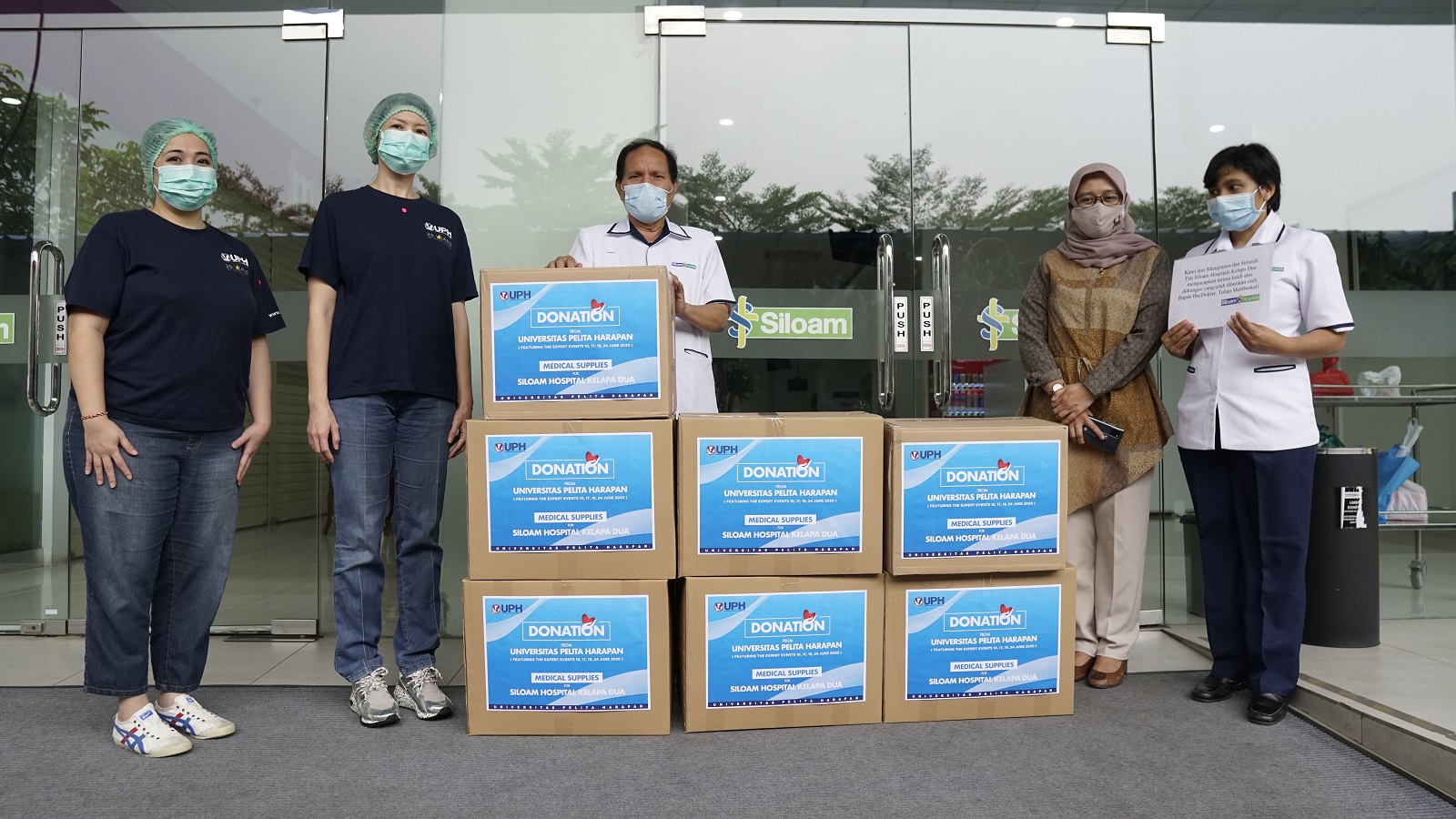 Universitas Pelita Harapan (UPH) menyerahkan donasi berupa Alat Pelindung Diri (APD) untuk para petugas garda terdepan di Rumah Sakit Umum (RSU) Siloam Kelapa Dua, Tangerang, pada Kamis, 23 Juli 2020.   Donasi yang diserahkan terdiri dari 500 face shield dan 3.150 masker, merupakan hasil dari penggalangan dana peserta program seri seminar virtual 'Featuring The Experts' yang digelar oleh Departemen Marketing and Admission UPH, selama bulan Juni 2020.
Donasi ini diberikan langsung oleh Silvy Santoso, Director of Marketing Communication and Admission UPH dan Elisa Laksana, Manager Event Department of Marketing Communication and Admission UPH, kepada representatif Rumah Sakit Umum (RSU) Siloam Kelapa Dua, Indriyani W.P., Head of Business Development.
"Donasi ini terkumpul dari biaya pendaftaran peserta 'Featuring The Experts' dan komitmen para narasumber experts diantaranya Dira Sugandi, Titan Tyra, Christy P. Kumesan, dan Alexander Averil untuk menjadi berkat bagi sesama di masa pandemi. Lewat program ini para peserta tidak hanya mendapatkan ilmu dari para profesional, mereka juga sekaligus berdonasi," jelas Elisa, yang terlibat dalam perencanaan dan pelaksanaan program ini.
Sementara itu, Indriyani mewakili RSU Siloam Kelapa Dua menyambut baik donasi yang diberikan oleh UPH. Menurutnya, hingga saat ini APD masih menjadi kebutuhan utama para petugas dalam melayani pasien yang datang ke rumah sakit.
"Karena sebagai garda terdepan, setiap petugas wajib pakai APD untuk menyambut pasien. Tentunya dengan adanya bantuan ini sangat bermanfaat bagi kami. Semoga donasi ini bisa menjadi berkat juga untuk tim UPH," ungkap Indriyani.
Gerakan UPH peduli dalam situasi pandemi akan terus berlanjut dalam berbagai bentuk kontribusi sesuai dengan peran dan pelayanan yang dapat diberikan kepada masyarakat. Baik melalui dukungan berupa donasi, maupun melalui berbagai kegiatan yang dapat meningkatkan wawasan dan produktivitas para generasi muda dan siswa sekolah menengah atas di masa pandemi. Diantaranya, UPH akan menggelar Virtual Open House Series pada tanggal 18,19,26, 27 Agustus 2020 dan 5 September 2020, dengan menghadirkan narasumber tokoh masyarakat inspiratif, untuk memotivasi para peserta agar semangat mengejar impian dalam situasi apapun.