PwC Held another on Campus Recruitment in UPH
.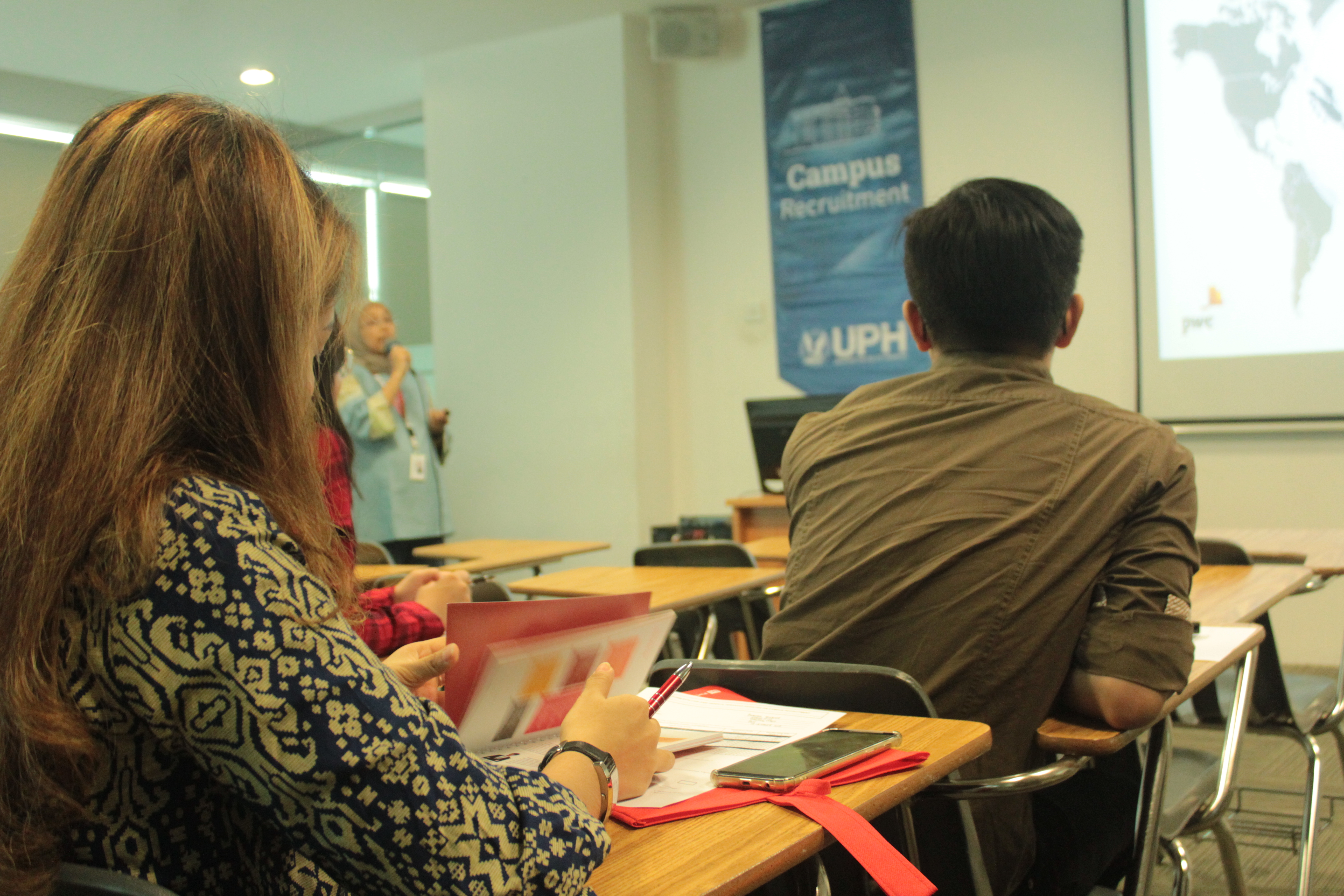 The Career Center of Universitas Pelita Harapan (UPH) did another collaboration with PT PricewaterhouseCoopers (PwC) as one of the biggest auditors in the world by conducting an On Campus Recruitment (OCR) on Friday, October 19, 2018 at the 4th floor of C Building, UPH, which was attended by dozens of UPH students who are very enthusiastic to follow this event which includes a company profile presentation up to a written test to apply as employee.
This time, PwC has even more clients than before, thus leading to a higher need for more human resources, thus this open recruitment in UPH will held two times in 2018. Previously, on April 2018, PwC had successfully employ 10 to 15 students who pass the tests.
"For this event, the number of audience might not be as many as before, but I appreciate it still because they are very pro-active while listening to the presentations as well as by raising questions according to the topic," said Intan Nurul, as the Assistant Manager Human Capital of PwC.
Intan also said that although in quantity, the employee that got recruited from UPH are not many in numbers, but the people who got recruited are those with passion in working and is a good fit to their position. In relation to that, Naftalia Mariany from Career Center UPH, said that through this year's OCR program, there has been 18 alumni of UPH that has been recruited by PwC. Moreover, at the end of this year, two employers in PwC, who are also an UPH alumni, will be sent abroad to follow a secondment program for two years. This program is a form of international exposure for employers who managed to pass the selection process.
"What's great about UPH alumni who are currently working in PwC is their great English skills, their ability to work professionally, and their confidence. Maybe it has been formed since their early years of learning in UPH," Intan added again.
Through this campus recruitment, Intan also hopes that more UPH's fresh graduates are able to pass the test and join PwC according to their desired lines of services. PwC also hopes for further collaboration in other fields with the Career Center of UPH. This hope is greatly welcomed by UPH Career Center by facilitating in-collaboration activities such as public lectures, career debriefing, and other possible forms of collaboration. UPH hopes that this collaboration may give lots of benefits in terms of preparing the careers of final year students and UPH's fresh graduates, not just as auditors, but also in other fields such as management, law, actuarial and IT. (it)