Book Launching: "Before you go to the Cardiologist"
.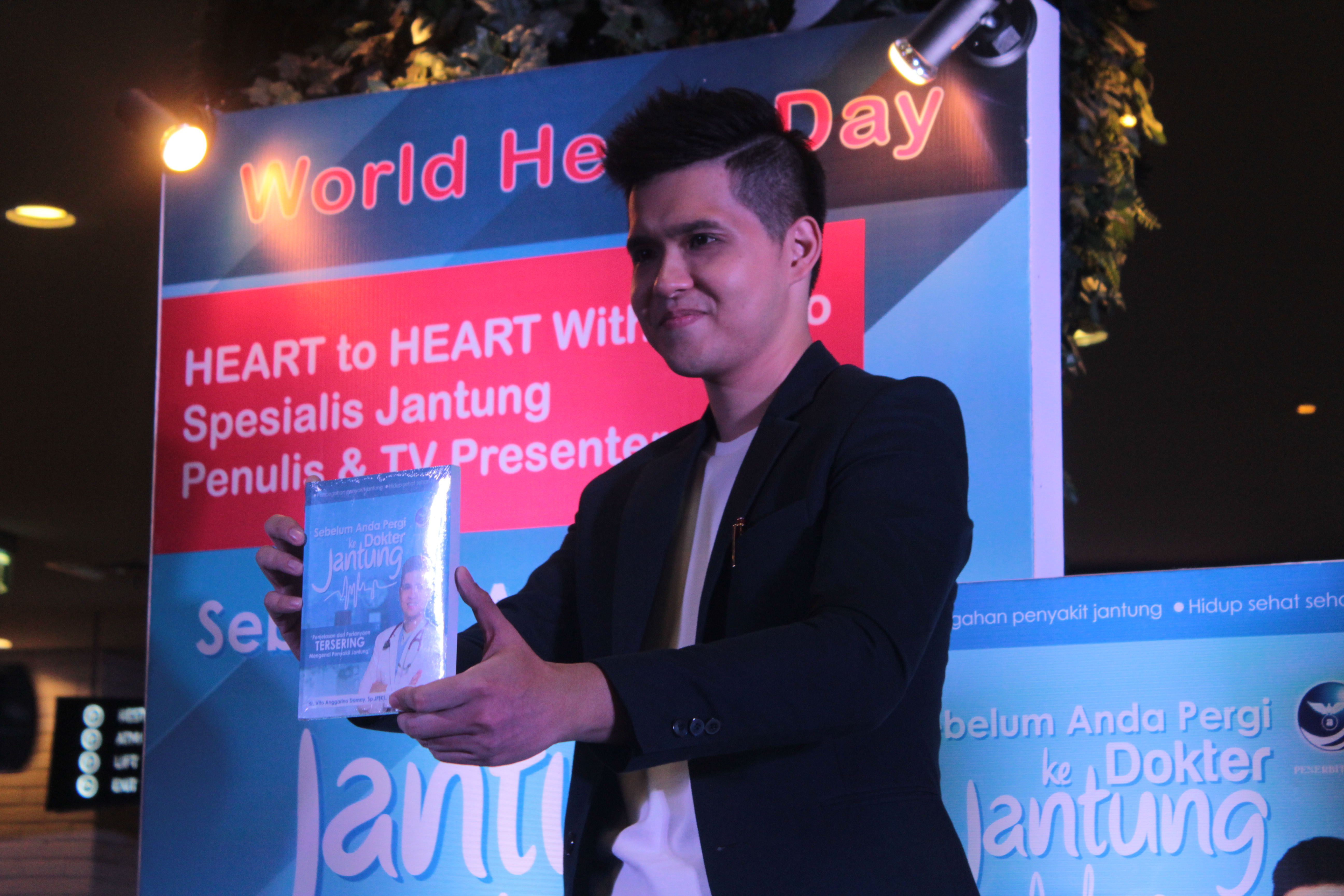 A desire to be impactful might be the best words to describe dr. Vito A. Damay SpJP(K), M.Kes FIHA FICA, a young doctor who specialized in cardiology who was an alumni and lecturer of the Medicine Faculty of UPH. Teaching and being a doctor were just not enough for him, he wants to be more impactful. One of the ways is by writing a book that might answer a variety of common questions about heart disease.
With his education and experience, dr. Vito wrote a book with the title "Before you go to the Cardiologist" that aims to elaborate about myths and hoaxes about heart disease, which was officially launched on September 28, 2018.
According to him, the book was written based on his concerns when facing a patient who often receive a late treatment and those who don't have to suffer from a heart disease because of their ignorance or a wrong information.
"Our people tend to be too nice and too caring, which makes them so eager to share an information they just got recently to other people. Moreover, with the advancement of technology, people can easily spread information without having to check its source and the truth of the said information beforehand. These reasons cause a lot cases of late treatment and often mistreatment for a disease, including the heart disease. From this point, I feel the need to elaborate on this topic and share to the public about the simple ways to deal with heart disease," said dr. Vito.
Aside from that, the phenomenon of the lack of cardiovascular doctors or cardiologist reassured this doctor as well as Television presenter, to share his knowledge.
"In Banten only, there are 50 specialists for 11,5 million people of Banten and every each of them has the right to get the correct information about health care. This motivates me to look for the right way to share the correct information to the public about things they have to know before seeing the doctor," said dr. Vito.
About his book, dr. Vito admits that he focuses on how he writes in order to make sure that all kinds of people can understand his writings, especially the non-experts.
dr. Vito juga also said that this book is a result of his practice of all of his activities which includes writing routinely in a health website platform such as klikdokter com.
dr. Doddy Pramodo Partomihardjo, SpM., head of FIAKSI (Indonesian Medicine Alumni Association Forum) and the co-founder of klikdokter.com, also gave his statement in the middle of this book launching.
"The people of developed country tends to not fear getting sick, which makes them health less by living a carless live. It is then a doctor's duty to become the medical handlers as well as a communicator. I hope that this book is able to raise people's courage to avoid getting sick," said dr. Doddy.
Compliments also came from dr. Roy Christian, SpJP(K), FIHA, Head of PERKI (Indonesian Cardiovascular Doctors Association) of Banten, who sees this book as an excellent way for people to gain basic knowledge about the heart disease.
"There are lots of kind of heart diseases. All of them, if not treated correctly, will end with heart failure and it will cost a lot of money. Thus we have to know the right steps and choices to make. This book is really good to raise people's early awareness. Understanding the preventive ways to avoid heart disease. (mt)