UPH Partners with Western Sydney University to Enhance International Education Quality
.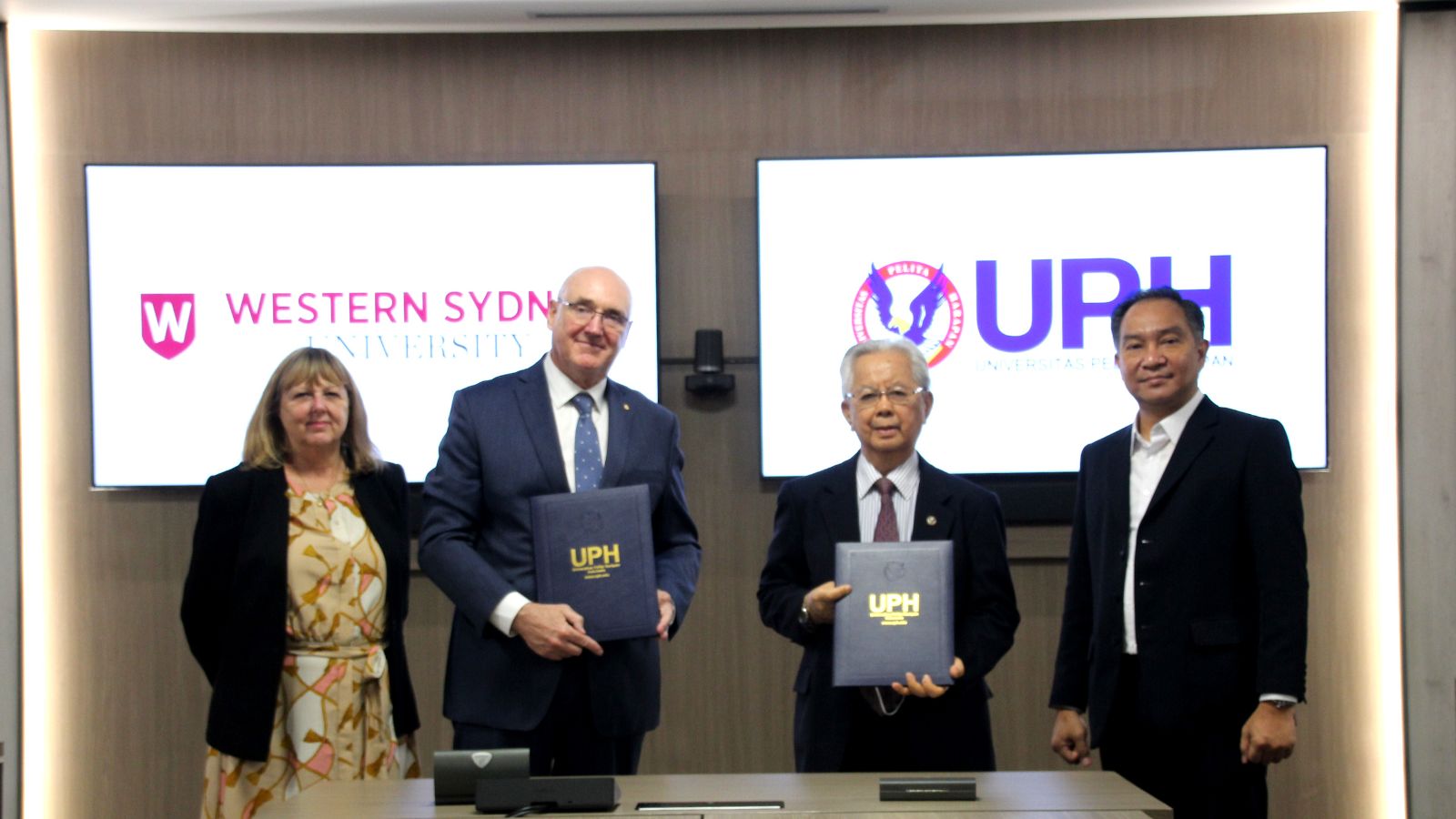 Higher education institutions play a significant role in improving a nation's ability to thrive in the globalization era. To meet this objective, universities need to create innovative programs that are relevant to the current needs. One of the ways to achieve this is through international partnerships between educational institutions. For this reason, Universitas Pelita Harapan (UPH) signed a Memorandum of Understanding (MoU) with Western Sydney University (WSU) from Australia on 13 July 2022. This partnership includes collaborations in the areas of education, student exchange, and other activities especially related to the food technology field.
The MoU was signed by representatives from WSU, namely Vice-Chancellor and President Prof. Barney Glover AO, Deputy Vice-Chancellor Prof. Deborah Sweeney, Pro Vice-Chancellor (International) Prof. Linda Taylor, and Senior Regional Manager (Southeast Asia/Pacific) Ian Sebastian while UPH was represented by Rector Dr. (Hon) Jonathan L. Parapak., M.Eng., Sc. The ceremony was witnessed by UPH Vice President for Marketing & Growth Binsar Pandiangan, UPH Associate Provost and Faculty of Science and Technology Dean Dr. Eric Jobiliong, Ph.D., as well as UPH Food Technology Study Program Head Ir. Wilbur Donald R. Pokatong, M.Sc., Ph. D.
In establishing partnerships, UPH always ensures to collaborate with highly reputable institutions with excellent quality. Among them is WSU which has been named the world's best for sustainable development according to the Times Higher Education (THE) University Impact Ranking.
Responding to this partnership, Prof. Barney stated "We are excited about this opportunity to work with UPH. UPH is a highly reputable educational institution with quality education, as is reflected in the previous partnerships they have with other universities. We hope that the programs will bring benefits for the students and help them expand their capacity on an international scale," he said.
Similarly, Prof. Linda Taylor said that WSU is looking forward to the various innovation programs created in this collaboration. "We are very selective in choosing our overseas university partners and only work with universities that have proven track records, including UPH. We hope that the programs in this partnership, such as student exchange, research, webinars, research collaborations, and scientific publications will help our students to reach their potential and become excellent graduates," Prof. Linda Taylor said.
UPH Rector also expressed his enthusiasm about this partnership. He said, "We aspire to bring UPH to the international stage, and we have been blessed with opportunities like this. This partnership is one of UPH's strategies to consistently deliver a transformative and international standard education. We look forward to seeing the results of this collaboration."
Through various partnerships with companies, organizations, and other foreign universities, UPH will continue to develop transformative and relevant learning programs to produce graduates who are excellent and ready to compete globally.
Global Partnerships & International Office UPH
UPH Global Partnerships & International Office facilitates a variety of programs that equip and prepare students to become global citizens with global insight. UPH is committed to providing opportunities for its students to gain international knowledge and improve their quality through a network of strong and broad strategic partnerships with universities around the world. Let's join UPH! For more information, call Student Consultants at 0811-1709-901 or register online.