High School Students Innovate with Leunca and Papaya Leaves in Food Explore 11
.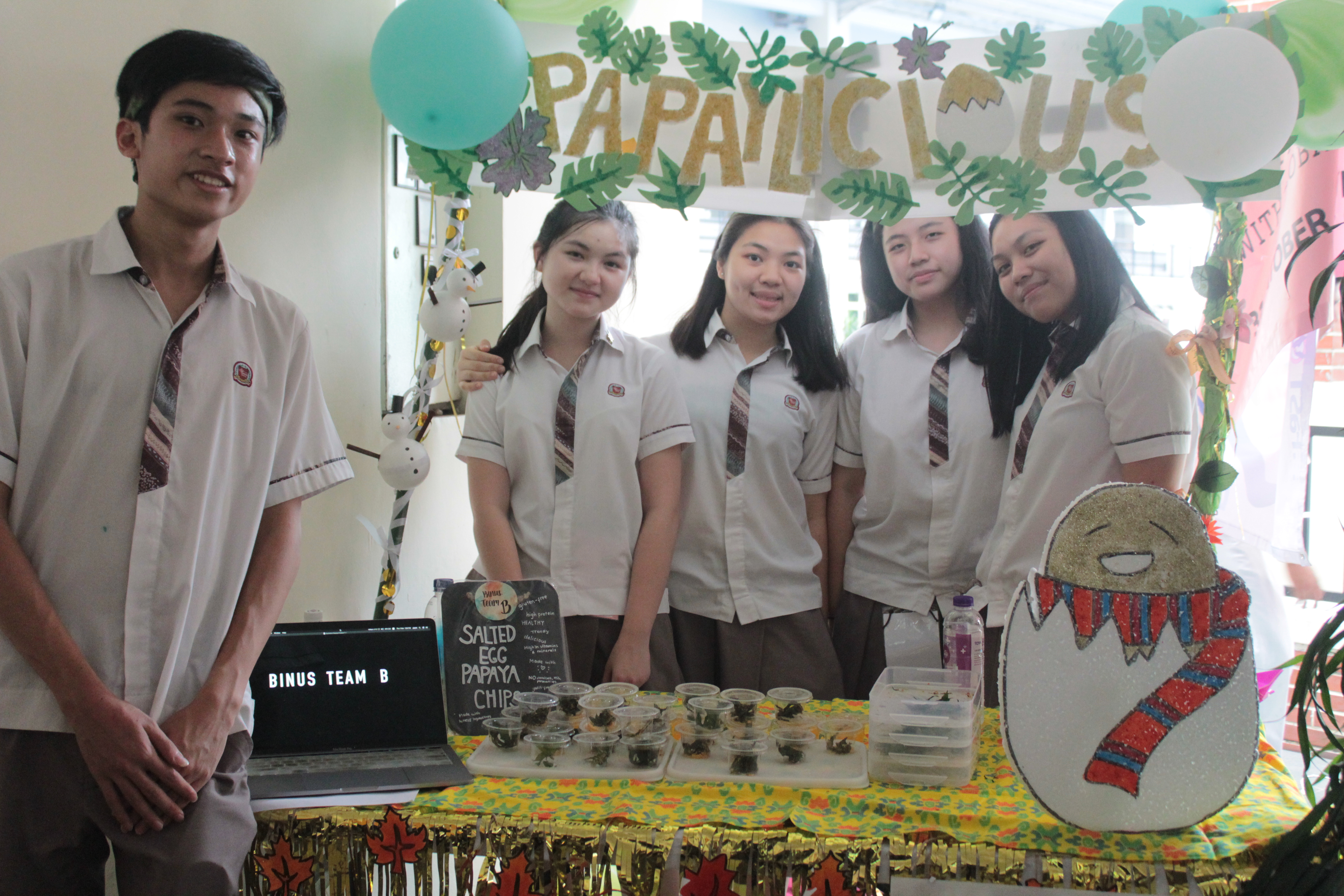 Food Explore 11, the yearly event held by Universitas Pelita Harapan (UPH) Food Technology, features an event specifically designed for high school students, where they can innovate with local food ingredients through the theme 'Food Local Wisdom & Global Trends'. The products that they came up with were impressive, featuring ingredients such as leunca and papaya leaves.
This competition, the 'Conditional Innovation Competition' (Kompetisi Bersyarat) held on November 1, 2018, comprises of teams of five from six different schools in Jabodetabek. In total, there were nine innovative products competing. Each group should create a new food innovation using predetermined ingredients. Every product is judged based on the teams' proposal, presentation, videos, product quality, and booth. Votes are also open for the audiences' favorite award.
Every booth is manned by the high school students joining the competition, and they were always on the ready to not only give visitors a taste of their innovations, but also to explain about the making of the products, the ingredients that used, and the benefits of their innovative products. Booth décor, naming, and packaging is also a crucial element in the success of the products.
Yip San of Bina Nusantara School Tangerang (Team B) enthusiastically showed the visitors their innovative product, Papaylicious. This product incorporates papaya leaves, a traditional food ingredient, and salted egg, an ingredient whose flavor is considered trendy among young people.
"We take the egg yolk out of salted eggs, dry them in the oven, and then we ground them into small crumbs. Then, we take some banana leaves and we boil them to free it of its bitterness. We then put them in the oven on 150 degrees for 5-10 minutes. Then, we put the salted egg crumbs on top of the papaya leaves. We chose to not fry the banana leaves to limit oil consumption," Yip San explained.
Yip San is looking to continue her studies at UPH Food Technology – she feels like through Food Technology, she can practice her creativity in making food innovations.
Amel, a student of Atisa Dipamkara High School, admits that this competition made her consider UPH Food Technology as the choice for her further studies, particularly because this major is not offered in a lot of universities.
Atisa Dipamkara High School modified leunca, an herbal plant known as Solanum nigrum or a European black nightshade, making it into ice cream and biscuit products. Aura, another team member, explained that leunca is a promising but little-known local produce, and this is why her team decides on leunca for this project. "We made ice cream out of leunca essence and biscuits out of leunca skin. We want to do this because not a lot of visitors know what leunca is. Most have no idea what it is, and through these products, we really want to make leunca more popular," Aura said.
Another participant, the team from Tarsisius I Jakarta High School, made meatballs containing papaya leaves. "Meatballs are extremely popular in Indonesia. We chose to put papaya leaves in it so everyone can enjoy healthy food. Children who do not like to eat vegetables can consume our food and get the nutrition they need," Natasha, a team member from Tarsisius I, explained of her product.
Natasha, a grade 12 student, is seriously considering the Food Technology major to take in college, and UPH is one of her choice campuses because of its reputable quality. (it)
List of Participants of Lomba Inovasi Bersyarat Food Explore 11
1. Papaya Leaves Salted Egg Chips (Papaylicious), Bina Nusantara School Serpong (Team B)
2. Freely (Leunca Candies), Tarakanita Gading Serpong High School (3)
3. R.E.S.E.P, Citra Berkat School
4. PapaFan (Chee Cheong Fan Banana Leaves), Tarakanita Gading Serpong High School (2)
5. Papaya Leaf Chips, Jakarta Nanyang School
6. Ice Cream & Cookie (Le Unca), Atisa Dipamkara High School
7. Papaya Leaf Rendang Balls, Bina Nusantara School Serpong (A)
8. Papechi (Banana Leaf Mochi), Tarakanita Gading Serpong High School (1)
9. MeatPapz (Papaya Leaf Meatballs), Tarsisius 1 High School
Winners of Lomba Inovasi Bersyarat Food Explore 11:
• First Place: Tarakanita Gading Serpong High School (3) – Freely
• Second Place: Tarsisius I Jakarta High School – MeatPapz
• Third Place: Tarakanita Gading Serpong High School (1) – Papechi
• Best Video: Atisa Dipamkara High School – Ice Cream & Cookie
• Audience Favorite: Atisa Dipamkara High School – Ice Cream & Cookie