UPH Food Technology Enhanced High School Students' Creativity through Food Innovation Competition
.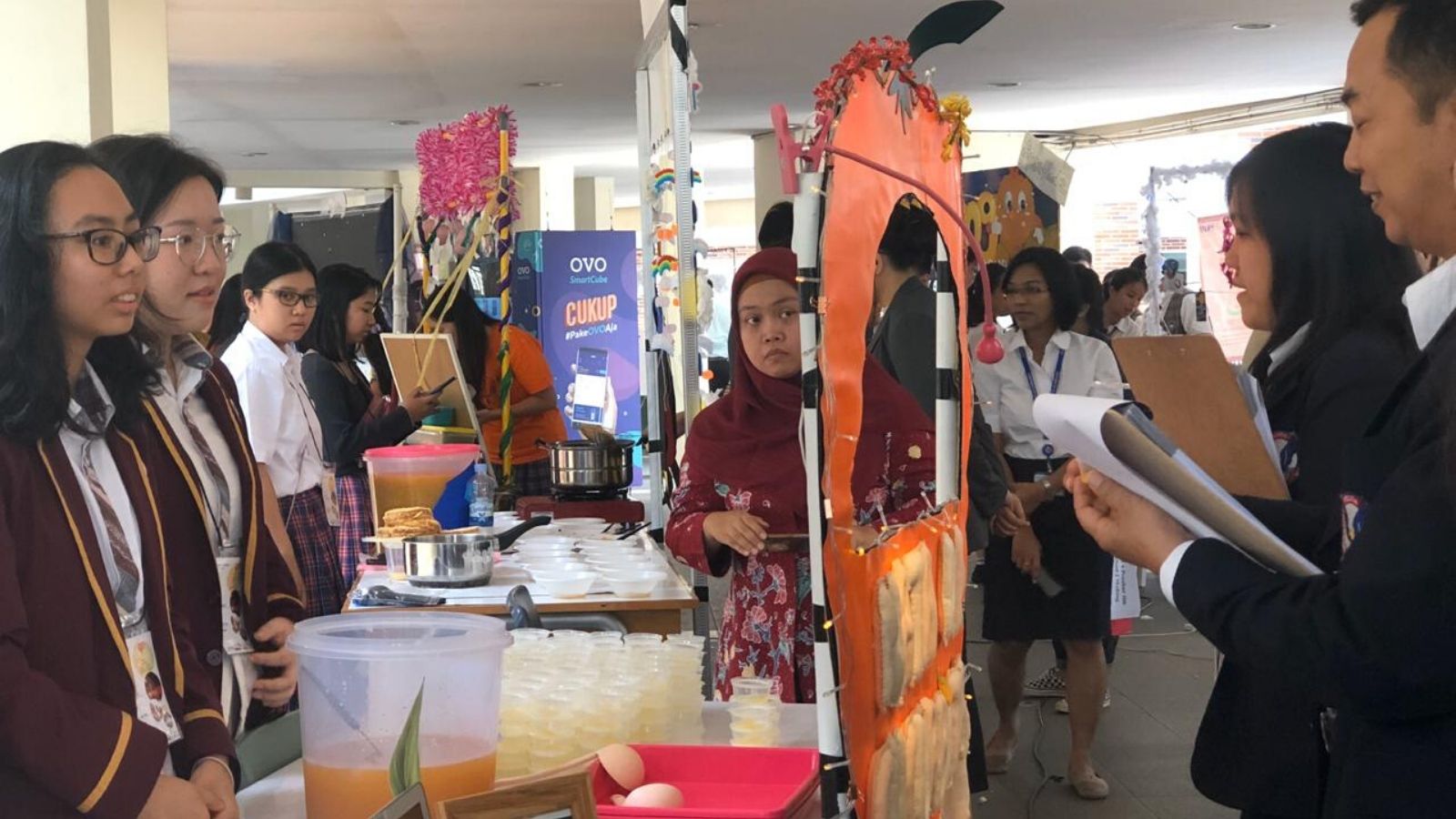 Creativity is often considered identical only with a few industries. To mention some of them are the film industry, marketing, architects, and a number of other industries that are related to art. Whereas, in this millennial era, creativity is an important asset for everyone. Creativity has to be trained since early days despite whatever industry one will be in, because it is a tight competition in the future. Even in this very day, creativity has entered the food industry.
The Food Technology Department of Universitas Pelita Harapan (UPH) wants to take part in enhancing students' creativity from their early years, especially in relation to the food industry, through a Qualified Innovation Competition that was followed by 10 High Schools with a total of 16 food innovation product. Uniquely, this competition requires the use of yellow pumpkin and white kepok banana, a very rare ingredient for daily food.
"We choose these two ingredients because they are pretty common and easy to find. However, there were only a few people who are willing to process it into a food product. This surely is a challenge on its own for the participants," said Dimas, Head Committee of Food Explore 12.
The competition, which was held on October 31, 2019, at UPH Lippo Village, was packed and festive. Visitors' enthusiasm can be felt as they tasted and enjoyed the innovative food products that were created by participants. There was a total of 16 food innovation products created by the High School students, among them were 3 beverages, 1 dessert, and 12 dishes.
In general, all of the food innovations are really unique and appetizing, however, one product really attracts visitors' attention. It is the product created by SMA Regina Pacis Bogor. The product is called 'Ramen Katsu'; the ramen was made from yellow pumpkin, and the katsu was made from a yellow pumpkin-coated bread.
"For this competition, we decided to create a katsu ramen dessert. The main ingredient that we use is the yellow pumpkin for the ramen, and the essence for the broth. We replace the katsu with flour-coated breads. Moreover, we use a molecular gastronomy technique to create this dish," said Angie.
According to Lea, a member of SMA Regina Pacis team, she became interested with food innovation when she joined the competition. Aside from enhancing creativity, she thinks that this competition can become the solution to the food crisis that might happen in the near future.
The food innovation that was created by SMAN 6 Jakarta was no less interesting, it's a yellow pumpkin-based ice cream. The surprise was not just the pampering flavor, but also the nutritional value that the dessert contains of.
"Before we created this ice cream, we did a research beforehand about the nutritional condition of Indonesian children. It is unfortunate that there are still so many malnourished children. Because od that, we create this yellow pumpkin ice cream innovation. Ice cream is a food that kids loved, and we made it from yellow pumpkin, this ensures the nutritional value of our ice cream," said Ahmad Zaelani, a member from the SMAN 6 Jakarta team.
The assessment for this competition consisted of proposal, presentation, product, and booth decoration. Each team are required to provide the product they have created to be served for visitors. Aside from offering their products to the visitors, participants should explain how they create the product and the benefits of the product. Later on, visitors are able to vote for their favorite product which will be referred to by the judges in order to choose the winner. This competition is a part of Food Explore 12, which also has other competitions such as National Foodpreneur Competition and Speech Competition.
Following is the list of winners for the Qualified Innovation Competition:
Binus School Serpong – Pumpkin Buns (1st winner)
SMAK 6 Penabur Asixfood 2 – Yellow Pumpkin Dumplings (2nd winner)
SMA Tarakanita Gading Serpong Tim 1 – Bumpkin (3rd winner)
SMA Pahoa – Cumos Bite (Best Video)
SMA Tunas Bangsa – Pumpkin Fritters Churros (Best Product)