Hospitality Management UPH Brings Students Creativity to an International Level
.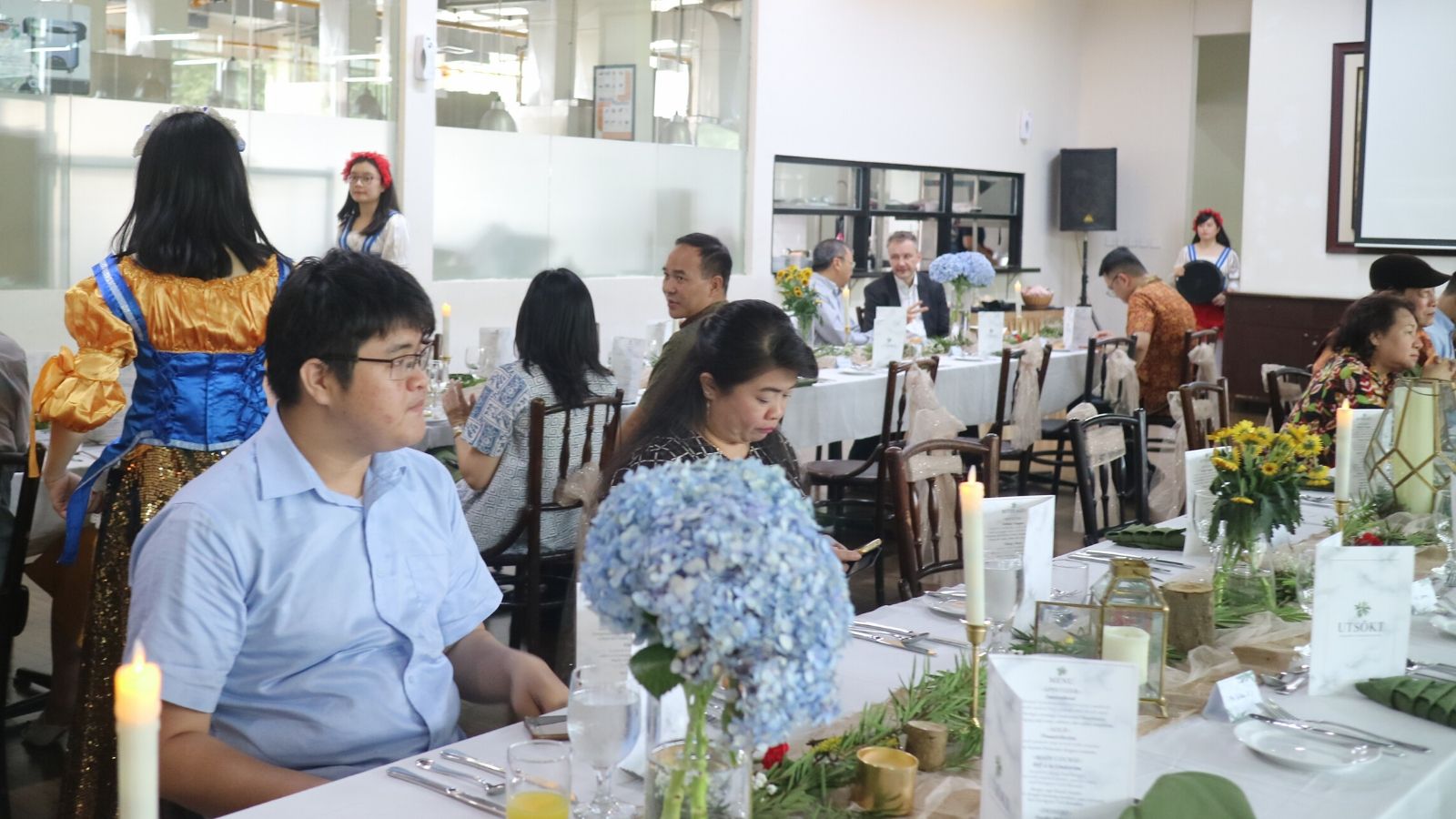 Creativity in not only important for those who work in the creative industry such as art, design, or even film. Other industries, such as hospitality and tourism, are also i need of creative skills in order to stay competitive in international level. The Hospitality Management Program from UPH School of Hospitality and Tourism has its own ways to improve the creativity of its students. One of the ways is through an international themed Gala Lunch; a final assignment for Food and Beverages Management course.
This course is a combination of several subjects that have been learnt by students in semester 1 through 5. This course tests students' ability to manage a program professionally starting from event planning, which includes choosing a theme, menu, budgeting, determining market list, designing setup, service, up to the execution and evaluation. Through this course, students are expected to learn about the skills they need to create a 'wow' guest service experience.
Last year, this course created a Gala Lunch program with 'European Cuisine' as its theme. This course is given to 6th semester students. During the course, students are divided into several groups; each representing a certain country in Europe.
In 2020, UPH Hospitality Management will present another Gala Lunch during its short course period (May – June) with a whole theme and countries to represent. In this course students are challenged to represent the unique features of certain countries, starting from the room decoration's ambiance, dresscode, performance, and most importantly, the menu they served. In terms of determining their menu, students have to go through a series of food and beverages test which will be assisted by an assistant professor.
"Through this program, students can obtain a hands-on experience in creating and stimulating their ability in Food and Beverages managerial. In regard to this, students who have done practical course in basic food production, basic bakery and pastry production, kitchen management, food service, beverage service, and hotel accounting, are required to practice their knowledge and skills like a real restaurant business owner but with a selected theme," explained Dr. Amelda Pramezwary, A.Par., M.M., Head of UPH Hospitality Management program.
Interestingly, in order to obtain an objective assessment, the Hospitality Management program and its students invite other people, starting from Department leaders in UPH, representative of certain countries such as from the Embassy, expatriate guests, professionals in the Hospitality Industry and Restaurant Owners, as well as parents of the students.
The way UPH develop the creativity of its students has been proven as it gotten several praises from several guests of honor such as the Excellency Finland Ambassador to Indonesia – Jari Sinkari, who was amazed by the Finland-themed Gala Lunch that was held by the Hospitality and Tourism students of UPH.
"It feels like going back home. I'm really amazed at these students' ability to think about all these intricate details starting from the costumes, decorations, dances, music, and surely the wonderful dishes. I'm really impressed by the main course, Biff à la Lindström. It taste really similar to the one in Scandinavia. I'm also very impressed when they played a traditional Finland music. It's really beautiful and it's very rare for me to find the opportunity to eat a Scandinavian dish in Jakarta," he stated.
This kind of practice encourages students to be creative and professional, and this will surely prepare every student for the internship program which they will have to take in the next semester.