UPH Held Career Talk to Prepare Students for Disruptive Era
.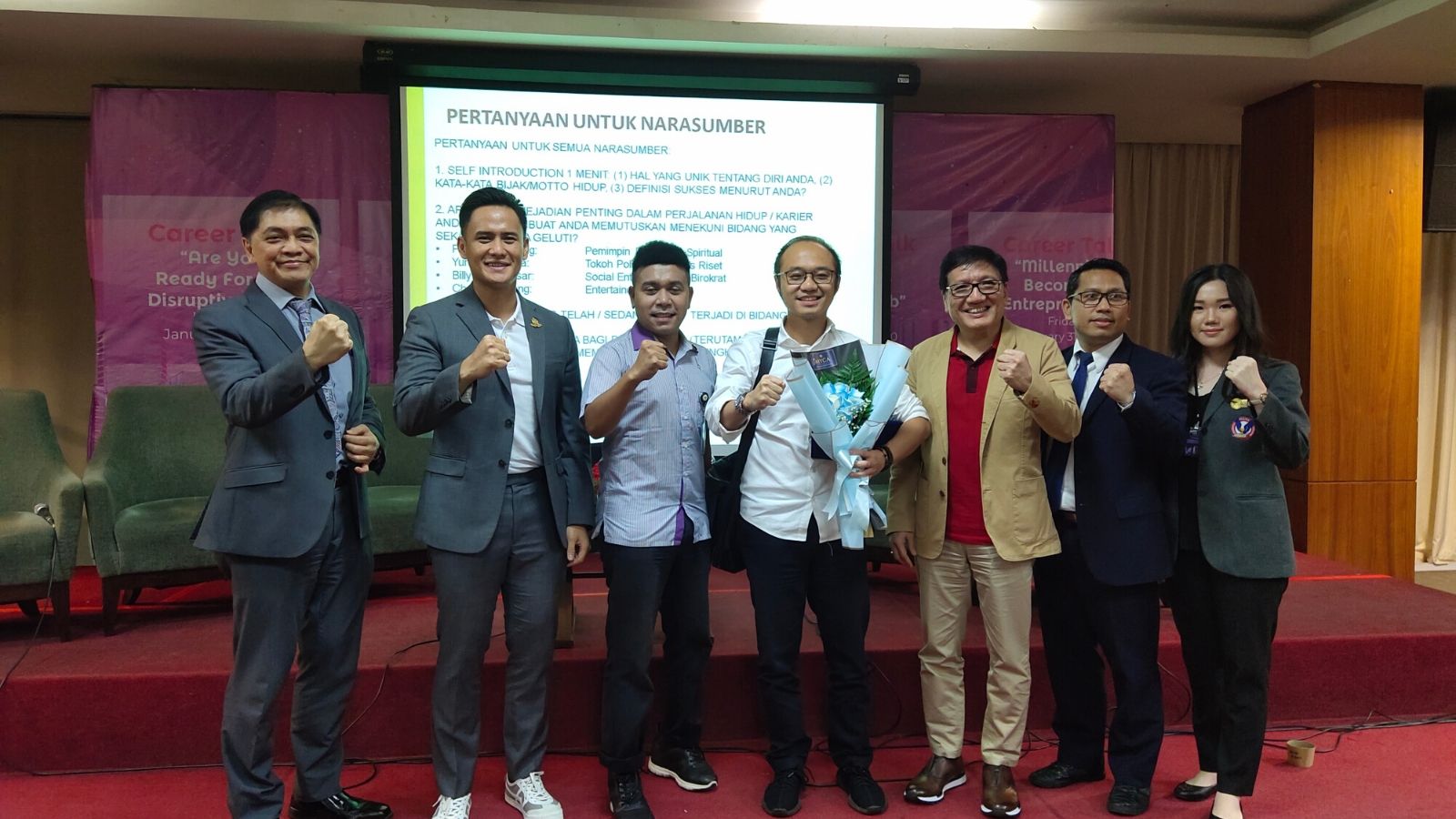 Indonesia has entered a disruptive era where digital technologies, such as internet, becomes the main actors of daily life activities. The presence of digital innovation has replaced outdated methods and technologies, which still depends on physicality, with a more efficient and effective one. Upon realizing this fact, Universitas Pelita Harapan (UPH) took the initiative by preparing its students for this new era by holding a series of program called "Career Expo 2020". This program was opened with a Career Talk entitled "Are you Ready for the Disruptive Era?" which was held on January 27, 2020, at UPH Lippo Village, Tangerang.
In this event, there were a number of notable key speakers such as Paulus Bambang W.S., Director of PT Astra International Tbk.; Yunarto Wijaya, Executive Director of Charta Politika Indonesia and Co Founder of Asumsi.co; Billy Mambrasar, CEO Kitong Bisa Foundation and Presidential Special Staffers; Choky Sitohang, TV Host, MC, Entrepreneur, and Public Speaker; as well as Prof. Roy Sembel, Ph. D., a Professor in IPMI International Business School, as the moderator.
Like it or not, digital disruption will eventually impact many fields including the professional and business field. Paulus Bambang believes that in every business, there should be at least one disruption that can lead to success.
"Disruption is only for those who are ready. If you are not ready to compete or to win from your fellow competitors, then you have to join and collaborate with them," said Paulus.
On the other side, in the middle of the ongoing scandals and issues, the political world can not be separated from disruption. Yunarto Wijaya said that Indonesia is relatively stagnant in terms of its political development. As a proof, we can see how political research has just been initiated in 2004 and on top of that, we still use a fairly conventional device.
"With the disruption that emerges now, the legislative body function could be taken over by the netizen, especially if we talk about the creation of public policy. Through the power of sosial media, many political and public accounts are watching every movement of political figures," he added.
The same principal also applies to the entertainment world, which according to Choky Sitohang has happened since 30 years ago.
"Nowadays, the audience prefer instant content, one that can be replayed, skipped, and stopped any time. Television these days are also attacked by sosial media, especially YouTube. However, any disruption in any era can always be defeated by a good character," Choky explained.
Yunanto Wijaya added that there are three important things that one needs to face this era. They are the 3C: Capability, Client, and Collaboration.
"Indonesia has a load of homework to do. Especially in terms of literacy and language competence which is really important in order to increase capability. What has been given inside the class is not enough. In the past, client is king. In this present day, owner and client relationship involves a gimmick relationship. Lastly, collaboration is a must. We can not be a king in our market share without collaborating amidst other sectors with more competitive advantages. If we do all these things, I believe that Indonesia will withstand this disruptive era," he explained.
In terms of encountering the market, the disruption era changes a lot of things including the customers. Billy Mabrasar assert that everyone should have the courage to innovate. Especially the millenials who will become leader in 2045. There are four important qualities that one should have and become: creative, innovative, courage to take the risk, and critical thinking . The skills we gained during our time in school is also important. Hence, he supports the program of the Ministry of Education that encourages students to be active in organization and to do more out-of-class activities.
"Indonesia has a lot of creative and innovative millennials. We have to hold them together to create a strong force that will build this nation into a better one," said Billy.
This event was attended by more than 250 students from various departments. The Career Talk is a part of "Career Expo 2020" which was held by Career Center UPH in collaboration with the Student Executive Board (BEM) and the Student Affairs Department of UPH. Some other topics that will be talked about in "Career Expo 2020" are "Love at First Sight: CV and Interview" on January 29, 2020, "Millennials Becoming Entrepreneurs" January 31, 2020, and "How to Love Your Life and Job" on February 3, 2020. During the peak event of Career Expo UPH, 45 companies will provide students with a vast range of job opportunities in February 14-15, 2020.