Saturday, 10 April 2021
14:15:00 - 16:50:00
Online Platform
Public, Current Students, High Schools, Social & Humanities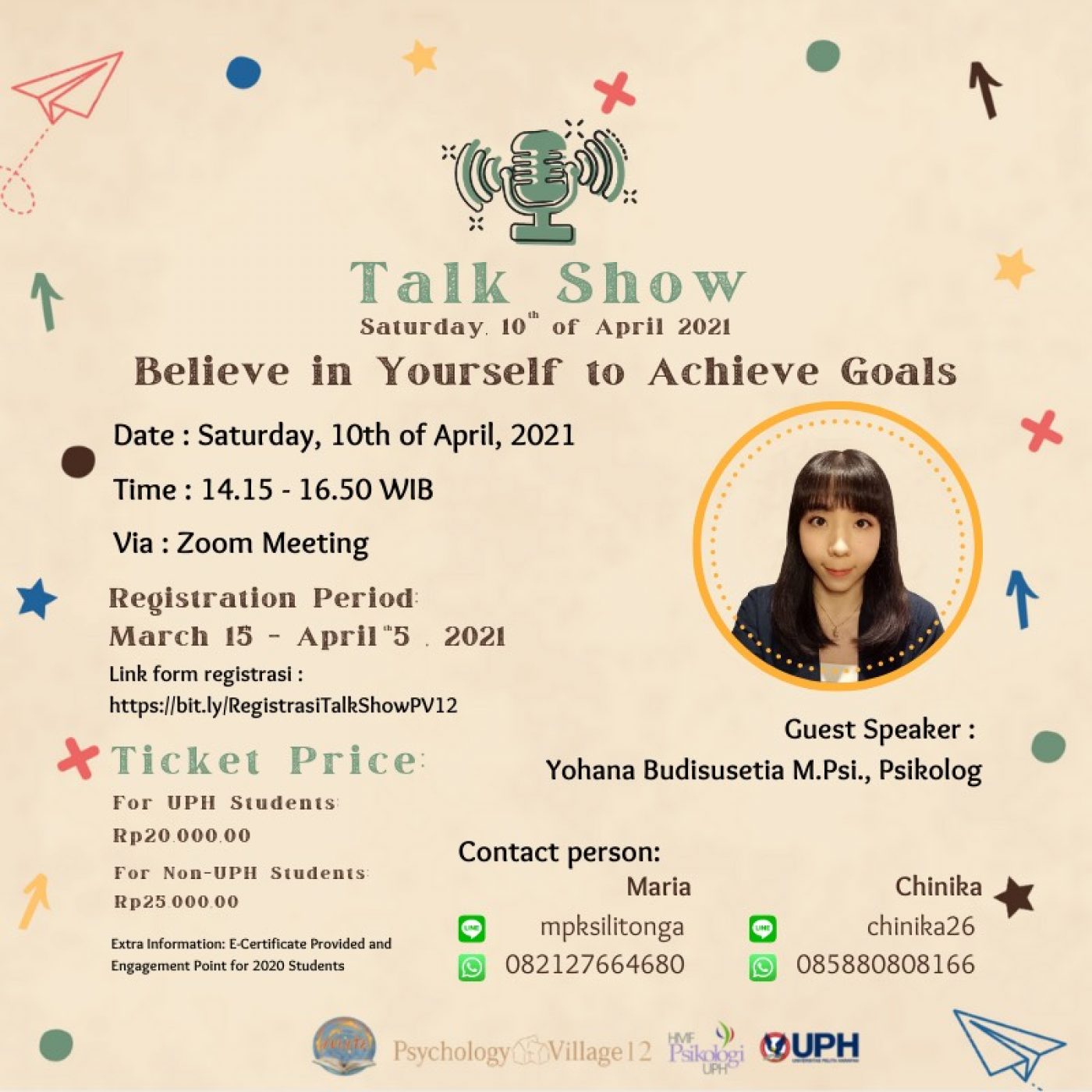 PSYCHOLOGY VILLAGE 12 proudly presents,
Talk Show : "Believe in Yourself to Achieve Goals" 🗣
"If you can remove your self-doubt and believe in yourself, you can achieve what you never thought possible." -Roy T. Bennett.
Every so often, we may feel insecure about our abilities and without realizing it, that lack of self-confidence often becomes the cause for our failure. This year's Talk Show will focus on the topic of development concerning self-efficacy in order to achieve one's goals.
Care to find out more? Join Psychology Village 12's Talk Show to enrich your mind in order to boost the success in your life!
Save the date!
📆 Saturday, 10th of April 2021
⏰ 14.15 – 16.50 WIB
📍 Zoom Meeting
📆 Registration Period: March 15th – April 5th, 2021
Every Cohort 2020 UPH Student Participant will Receive Engagement Points & Every Participant will Win a Chance to Get the Door Prize‼️
🎟 Ticket Price :
For UPH Students : Rp20.000,00
For Non-UPH Students : Rp25.000,00
💻Register here : bit.ly/RegistrasiTalkShowPV12
☎️ For further information, contact us at:
Maria — mpksilitonga (LINE) / 082127664680 (WhatsApp)
Chinika — chinika26 (LINE) / 085880808166 (WhatsApp)