10 UPH Study Programs Successfully Brought 21 Students to Win IISMA 2022 Scholarships
.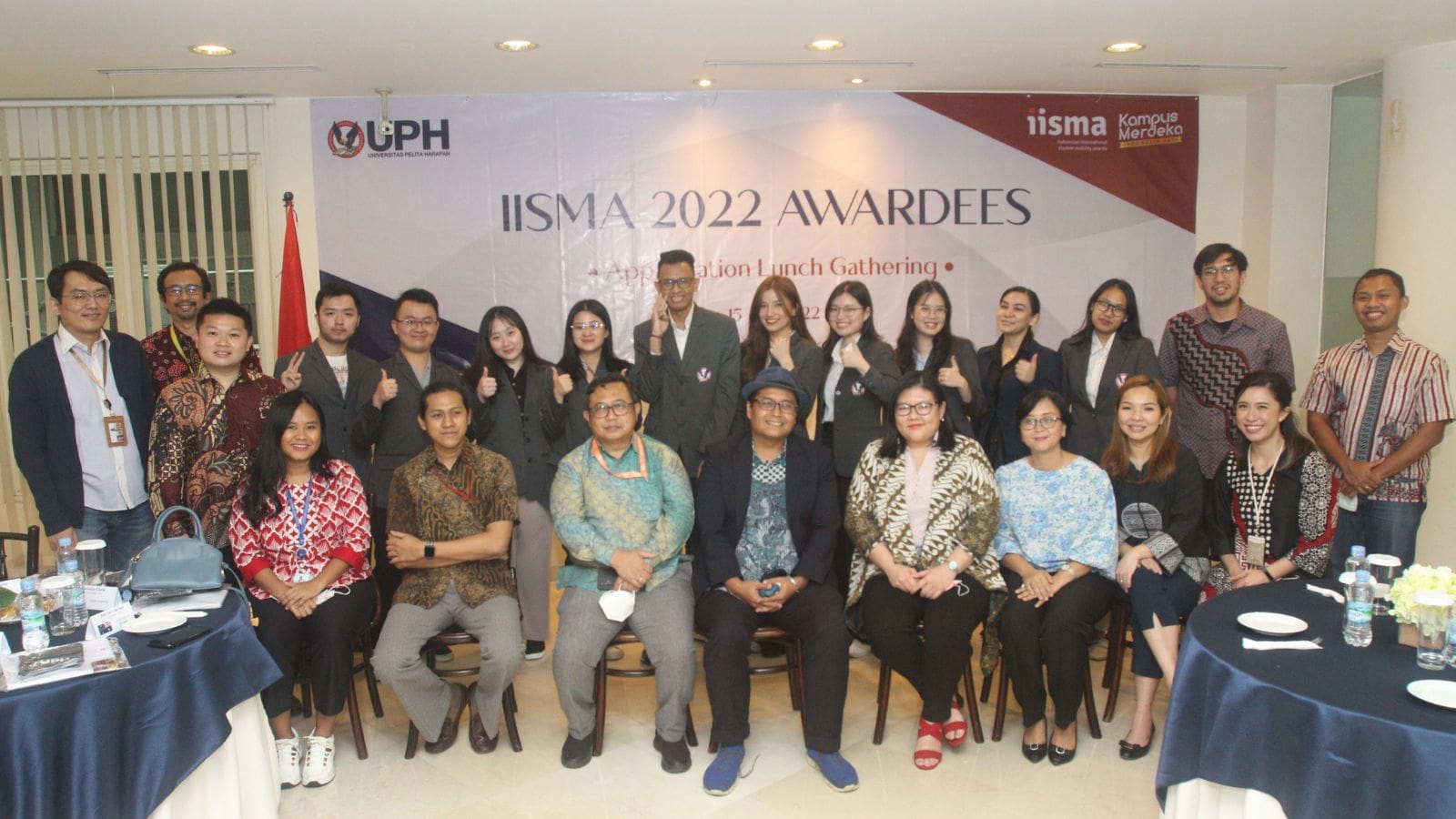 Tangerang, 15 July 2022 – 21 Universitas Pelita Harapan (UPH)'s students of 10 different Study Programs (Prodi), from UPH Karawaci UPH Medan, and UPH Surabaya Campus, managed to pass the strict selection of the featured program of the Ministry of Education, Culture, Research, and Technology (Kemendikbudristek), namely Indonesia International Student Mobility Awards (IISMA) 2022 Scholarship. These ten study programs are International Relations (HI), Product Design, Biology, Architecture, Communication Sciences Online Learning (PJJ), Law, Psychology, Management (Surabaya and Medan Campuses), and Accounting (Medan Campus). The IISMA program itself aims to provide rights and opportunities for students to develop competence and knowledge, as well as allow students to experience studying in foreign universities. This achievement is proof that UPH always provides encouragement and opportunities for students to obtain quality experiences, such as through the IISMA program.
Through the IISMA program, UPH students will continue their studies for one semester at well-known universities in America, Asia, Australia, and Europe, which are included in the Top 300 QS University Ranking; like Nanyang Technological University (NTU) Singapore, University of Warsaw Poland, Australian National University, University of Melbourne, and others. During the study period, students can take self-development courses that are of interest to them and in accordance with applicable requirements. From 10 UPH Study Programs, the most students who successfully passed the IISMA scholarship selection came from the International Relations Study Program with 7 students and Product Design with 4 selected students.
International Relations is a study program offered by the UPH Faculty of Social and Political Sciences (FISIP). UPH International Relations students have been equipped with various practical skills, international insights, and trained to have more comprehensive thinking by considering various disciplines. UPH International Relations is also the only university that puts ASEAN as the center of specialization. More than that, UPH always focuses on soft skills development through various student activities, such as Model United Nations (MUN) competitions, the Foreign Policy Community of Indonesia (FPCI) UPH Chapter, and the International Relations Debate Club (IRDC).
Furthermore, UPH Product Design excels in a wide range of student activities. Several exhibitions have taken place both inside and outside UPH. Recently, UPH Product Design held an exhibition with the theme 'Meraki' at Lippo Mall Puri; bringing UPH students closer to the public and the industrial world. The students believe that every experience they gained while studying at UPH helped them win the IISMA 2022 scholarship.
In response, UPH Rector Dr. (Hon) Jonathan L. Parapak, M.Eng.Sc. stated, "UPH consistently provides a transformative education to produce superior resources. At UPH, we always give students opportunities and encourage them to do their best, one of which is to pass the IISMA Scholarship program. This program provides UPH students with new opportunities to collaborate in academics, student affairs, and research. UPH hopes that this IISMA program will allow students to better equip themselves, expand their networks, and become representatives of quality Indonesian students capable of competing in the global world."
Noviyanto, S.T., M.M.S.I, Head of the General Section of the Region III Higher Education Service Institution (LLDIKTI), expressed his pride for the 21 UPH students who were selected for the 2022 IISMA Scholarship program.
"UPH is one of the top three campuses in LLDIKTI Region III in terms of the number of IISMA Scholarship recipients. We are very proud and happy for them, and we hope that when they return to Indonesia, they will be agents of change for UPH and this nation, as well as mentors for their UPH classmates to join this program next year," he said.
Obtaining the IISMA scholarship is surely not easy; students must go through a rigorous and difficult process. According to Vanessa Jovana from Information Systems UPH Medan Campus and Samuel Emmanuel Soentoro from Biology Study Program UPH Karawaci, this experience was extremely memorable for all students.
"Considering a large number of participants from all over Indonesia, this opportunity is extremely valuable. One of my dreams has come true with this privilege to study abroad. I hope this program can teach me a variety of skills, including culture, time management, independence, and others. I also hope that this experience will help me gain new knowledge, insight, and skills that I can share and inspire others," Vanessa said.
Samuel also revealed that the IISMA selection process was extremely challenging. Starting with a series of tests, declaration letters, academic transcript scores, writing essays, and various tests, including a free letter of Narcotics, Psychotropics, and Addictive Substances (Drugs). Samuel was awarded a scholarship to The University of Adelaide in Australia as a result of his tenacity and training at the UPH Biology Study Program.
"Joining the IISMA program is an unforgettable experience. I hope that after participating in and completing the IISMA program, I will be able to learn new things from both an academic and non-academic standpoint. More than that, I hope that my experience studying abroad will help me become a more open-minded student," he explained.
Selected UPH students will receive scholarships for tuition, housing, PCR facilities, visa processing, health insurance, pocket money, and housing money while attending the destination university through this scholarship program.
Congratulations to the 21 UPH Students who passed the 2022 IISMA Scholarships:
Angeline Lawrencia (Hanyang University, South Korea)
Annika Fathma Indra (University of York, England)
Bryan Edgar Kumala (Arizona State University, USA)
Catharina Carissa Alfiora (Arizona State University, USA)
Cathleen Elliana (University of Birmingham, England)
Chrystle Feodore Manlee (Maastricht University, Netherland)
Cornelia Kristian (University of Warsaw, Poland)
Elvira Grizelle Chandra (University of Warsaw, Poland)
Gema Hisar Nawara Togatorop (University of Warsaw, Poland)
Gilbert Jeremy Karley (Australian National University, Australia)
Jezzania Verlyn Christy (Pompeu Fabra University, Spain)
Kevin Jonathan Parulian Pangaribuan (Radboud University, Netherland)
Maeve Eunicia (Humboldt-Universitat zu Berlin, Germany)
Michael Timothy (University of Melbourne, Australia)
Richie Chandra Winata (Australian National University, Australia)
Sabrina Clarissa (University of Sydney, Australia)
Samuel Emmanuel Santoso (The University of Adelaide, Australia)
Valeria Gabriella (Vrije Universiteit Amsterdam, Netherland)
Vanessa Elaine (Korea University, South Korea)
Vanessa Jovana (Nanyang Technology University, Singapore)
William Davis Subroto (Sapienza University of Rome, Italy)
The participation of UPH students in the IISMA program is proof of UPH's efforts in preparing students to become graduates who are competent, tough, and relevant to the needs of the times, with global standards, ready to become world leaders while maintaining a strong national spirit.
—oo0oo—
____________________________________
About UPH
UPH has always had an impact on the nation and state through superior, holistic, and transformational higher education since its establishment in 1994. UPH is committed to develop competent and professional leaders who possess true knowledge, faith in God Almighty, and godly characters. UPH continues to spread its wings by collaborating with universities from around the world to stay on top of the latest educational developments. Partnerships with the industrial world, both at home and abroad, can also open doors for graduates to enter the workforce. Located in Tangerang, Jakarta, Medan, and Surabaya, UPH has 100 study programs with relevant curriculum and highly competent lecturers. Up to this time, UPH has produced more than 43,000 graduates who serve in various fields, as well as become agents of change for the nation and state.
____________________________________
For further info, please contact:
Wiky Senjani
Head of Public Relations/Marcomm & Alumni Relations
Universitas Pelita Harapan
wiky.senjani@uph.edu / 021 – 546 0901 ext. 2216
---
read also:
Desain Produk: Keunggulan Jurusan & Prospek Karier
Arsitektur: Info Kuliah, Prospek Kerja, hingga Profil Alumninya
Psikologi: Keunggulan Jurusan dan Prospek Kariernya
Jurusan Manajemen UPH: Kelebihan, Kompetensi Dasar, Materi Perkuliahan, hingga Prospek Kariernya